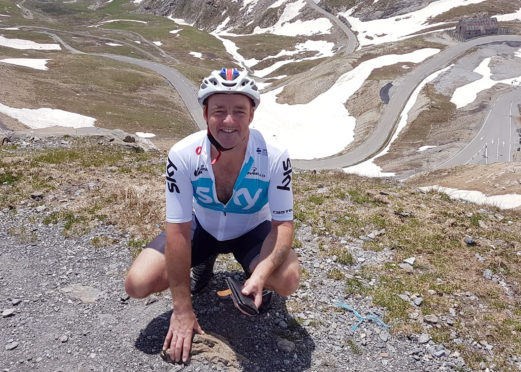 Most people would choose to spend their 55th birthday celebrating with friends or putting their feet up.
Not George Wallace.
Instead of blowing out the candles on a cake on August 7, the Kinglassie man will spend the day huffing and puffing in the saddle as he and his wife Audrey embark on an epic cycle the length of the United Kingdom.
As well as trying to challenge himself, George is hoping to raise funds for Glenrothes girl Kayla Bird, who has cerebral palsy, and whose family have to fork out thousands of pounds a year to pay for trips to Wales for physiotherapy.
It is a cause close to George's heart as his eldest son Graeme, who is now 30, also has the condition.
"Graeme received physiotherapy weekly when he was at school but Kayla only sees an NHS physio about twice a year," he said.
"If she wants a block of physiotherapy her family have to travel to Wales.
"Each trip costs the family a minimum of £1,300, by the time they pay £750 for her course then £200 in fuel and around £400 for a week's accommodation."
Kayla also enjoys weekly lessons at Shiresmill Riding School which have boosted her confidence and core strength.
Most people who attempt the Land's End to John O'Groats route tend to do around 50 miles a day and take 21 days to complete it.
But George and Audrey are aiming to complete it in just nine days, meaning the pair will have to cycle about 110 miles each day.
"After a five-year break from cycling we decided to get back into it again," George said.
"One of the rides we always planned to do was Land's End to John O'Groats so instead of trying to do it at 45 we will be attempting to do it at 55.
"On the days when Audrey and I are struggling with the cycling, we will carry on because it will be nothing compared to the effort Kayla has made to take her first steps and the struggles her family have faced to get help for her."
George has secured sponsorship through a number of local businesses. A fundraising page has also been set up at https://www.justgiving.com/crowdfunding/george-wallace-lands-end-to-john-o-groats.