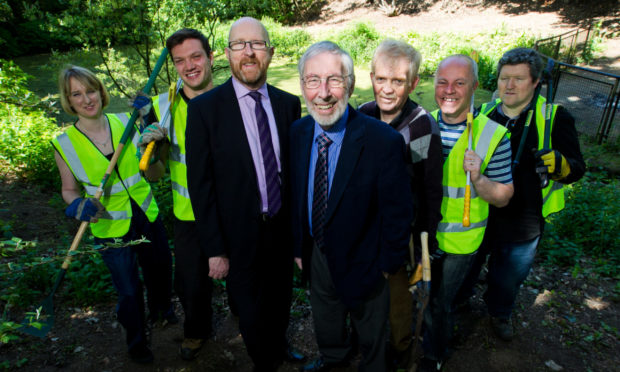 A derelict Fife mill will receive its first delivery of flax in more than a century this week, heralding the start of a multi-million fundraising campaign to transform the building.
Developers hope to bring the former B-listed mill, at Silverburn Park in Leven, back to life by creating a first-class community, training and tourism hub.
The £8 million fundraising drive to open a backpackers' hostel, arts studios, meetings and events spaces and fully-accessible public toilets will launch on Friday at the opening of the park's new campsite.
The arrival of the crop, used in the manufacture of linen and grown by heritage consultant Sian Loftus, will signal the start of the new era.
It will be used to make lanterns during a number of community workshops in the run up to a Welcome Back to the Light event in December.
Covid-19 restrictions permitting, a procession of townsfolk will make its way from Leven town centre to the 27-acre park where the lanterns will be left as an art installation.
It is hoped the mill will open in 2025, quickly becoming the park's centrepiece.
Silverburn Park chairman Brian Robertson said: "We are thrilled to receive the flax just in time for the opening of our brand new Silverburn Park campsite and to start tentatively moving towards our lantern event, which we hope will bring people together to celebrate the park and a move into easier times for all.
"The flax mill project itself aims to allow Fifers to explore and be proud of their shared industrial heritage of linen-making as well as giving a boost to the Levenmouth community by bringing in jobs, tourism and a hub for people to use and enjoy."
Sian, who is recruiting for a local artist to be part of the project, said she hoped the community would get involved in making the lanterns.
"The lantern event aims to welcome back the light into the park, the mill and our lives following the dark period we have been experiencing," she said.
"We are hoping that the lantern-making workshops can be face-to-face in local schools and community centres but are also developing an online package for people to do it remotely using a pre-recorded video."
The project is a partnership between Fife Employment Access Trust and Fife Council, with support from Fife Historic Buildings Trust, and is aimed at generating income to support the park's maintenance.
An online crowdfunder will be launched at www.greenspacescotland.org.uk/silverburn-flax-mill or text FLAX05 to 70085 to donate £5.