A Fife ice hockey fan who was ejected from a match after a ruck with an opposing player was allowed back into the stadium after winning the half-time raffle.
Kirkcaldy carpenter Graham Ritchie was removed from the Fife Ice Arena by stewards after pouring beer on a rival team's player.
The Fife Flyers fan got into the altercation with Manchester Storm's Eric Neilson in the 32nd minute of Saturday's match.
However, as he made his way to a local bar in the aftermath of his untimely exit, he was told to return to the stadium after winning the club's £500 raffle jackpot.
"I was gutted at being thrown out but then got the news that I'd won the half-time draw.
"I went back and told the security guys I'd won £500 (and) they couldn't believe it.
"I collected the money no bother."
Mr Ritchie, 27, claims he has received abusive online messages since news of Saturday's altercation hit the headlines.
The Flyers season ticket holder said the clash with Neilson started out as "just verbals, nothing threatening," before adding: "The next thing I knew was that I and all the people around me were soaked with water."
The player is said to have sprayed water from a drinks bottle at members of the crowd, with Ritchie responding in kind with his beer, prompting a scuffle.
Angered at his portrayal in some quarters of the media, he said: "I was just defending myself."
Storm coach Omar Pacha claimed his player was still recovering from an eye operation and had been angered by having beer thrown at him.
Neilson now faces a one-game suspension for his actions.
Mr Ritchie, however, is still awaiting news of his fate, with the fan unsure as to whether or not he has been banned from returning for future games.
Despite the drama in the stands, Flyers went on to win the Elite Ice Hockey League tie 4-3.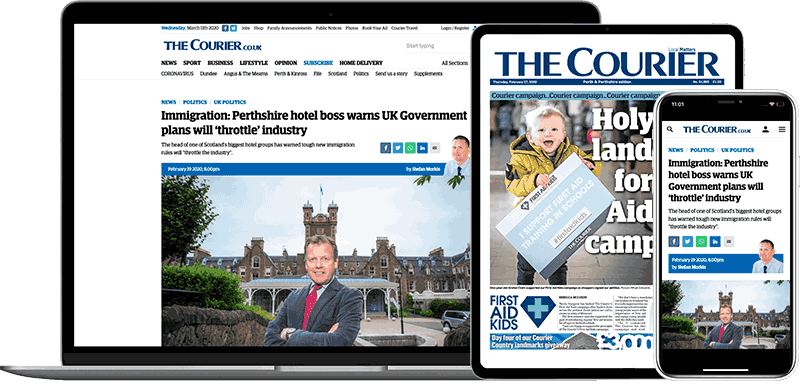 Help support quality local journalism … become a digital subscriber to The Courier
For as little as £5.99 a month you can access all of our content, including Premium articles.
Subscribe