One of the main routes into Kinghorn will be closed for six months to allow a major housing development to go ahead.
Lovell Homes, which has planning permission for its Lochside Grange development, plans to close a short stretch of the road from early August.
The closure, from just east of Kinghorn Loch to the track leading to The Ecology Centre, would effectively shut off the route between Burntisland and Kinghorn.
Local residents fear the move would result in traffic congestion.
And there are concerns it could affect businesses.
But the developers maintain it is necessary for safety reasons.
In a letter to Fife Council, Royal Burgh of Burntisland Community Council chair Alex MacDonald described the 24 week closure as "quite extraordinary".
He said: "The road in question is one of only three routes into Burntisland from Kirkcaldy.
"Its closure will therefore increase the traffic flows along Kinghorn Road, Cromwell Road and Cowdenbeath Road, all of which have speed limits lower than the B923 and are already congested at peak times.
"Given that the original planning consent is dated 2010, the developer has had ample time to explore the options and engage in meaningful communication with affected users of the highway.
"That has not happened and is itself reprehensible."
The Royal Burgh of Kinghorn Community Council also opposed the road closure.
Community council depute provost Roy Mackie said: "There's going to be an awful lot more traffic going through Kinghorn.
"I'm not convinced that the developers have considered all the options."
Lovell's regional operations director Adam Forrest said the road closure was necessary to ensure compliance with regulations.
He said: "During the planning determination period, alternative options were investigated, however, following a thorough risk based safety analysis, the closure of the B923 from early August for approximately 24 weeks was identified as being by far the safest option.
"We acknowledge and apologise for the inconvenience this will cause to the surrounding communities and businesses while construction is carried out but are confident the long-term regeneration of the area and introduction of traffic calming measures and reduced speed limits will improve safety and have a positive effect on the surrounding communities and businesses.
"We will ensure that local people are informed once the date for this closure is finalised and we will work closely with local businesses to ensure that where possible disruptions are kept to a minimum."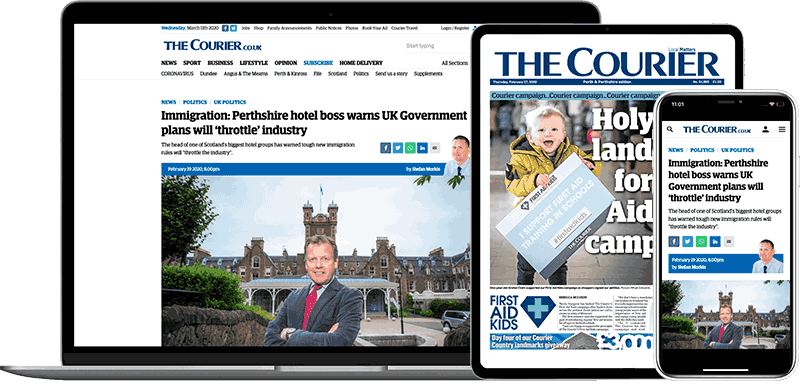 Help support quality local journalism … become a digital subscriber to The Courier
For as little as £5.99 a month you can access all of our content, including Premium articles.
Subscribe