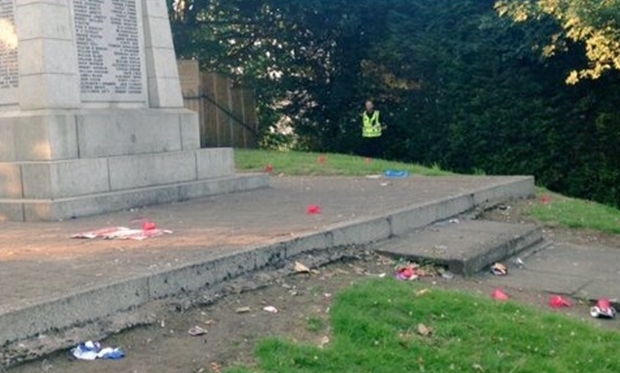 Youths who have been using a Fife war memorial as a drinking den have been branded "disrespectful" by police.
Officers have condemned the behaviour of the teenagers gathering at the popular remembrance spot in Cowdenbeath and are expected to increase patrols in the area this weekend and throughout the summer holidays in a bid to curb the problem.
Bottles and cans have been found strewn around the tribute at the north end of the High Street, amid reports of local youths congregating in the area.
The monument is known as the First World War Memorial and is one of two in the town, with the other located outside the Town House.
It has been targeted by vandals in the past, but this latest desecration has prompted an angry response from authorities and locals alike.
A Police Scotland spokesperson said: "It would appear that local youths have mistaken the war memorial as a drinking den.
"This behaviour is both disrespectful and unacceptable."
Local councillor Darren Watt, who recently raised his concerns over extensive vandalism at Hearts of Beath youth football club's cabin which has so far seen two people charged, repeated the police's wider message.
"I spoke with local police regarding this and it is something that we do find quite concerning," he said.
"In a way, I'm not sure what the answer is – it's not necessarily the case that the young people think they have nowhere to go.
"But ultimately I echo what the police have said because it is extremely disrespectful.
"At the end of the day these young people wouldn't have had the opportunity to be sitting quite freely drinking alcohol if it wasn't for those who bravely fought in the war.
"It is quite an isolated spot because it's at the top of a hill with steps on either side, and that's the beauty of it – it's a nice area with a nice garden.
"Unfortunately that's what makes it even more of an attraction, as a place where these young people can go."
Mr Watt also urged anyone who witnesses acts of anti-social behaviour or vandalism to contact Police Scotland on 101.