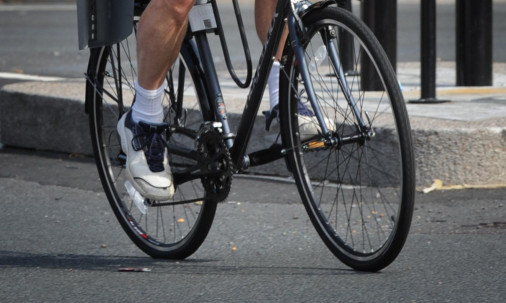 A young Fife boy was left screaming in agony when he was hurled in the air by a cyclist before a dream trip to Legoland.
Four-year-old Matteo Carlucci from Dunfermline suffered a broken arm and a permanent dent in his head after being trapped in the bike's front wheel near Windsor Castle last year.
The youngster also lost a tooth when he was thrown into a traffic bollard after Richard Manners, riding a sports bike with no brakes on a cycle-free shopping precinct, sped past his parents with a "whoosh".
Matteo's face was jammed in the bike's front wheel and he was left with friction burns to his face, as well as permanent muscle damage which caused the dent in his head.
As he was taken to hospital, the four-year-old could be heard shouting: "Mummy, my arm, my arm."
He now has a fear of people riding bicycles.
Manners, 21, was this week jailed for 27 weeks after he admitted causing bodily harm by wilful misconduct.
Judge Miss Recorder Christine Agnew told Manners at Reading Crown Court: "This offence is so serious that only a custodial sentence can be justified."
Matteo had been about to make his first trip to Legoland with parents Davide Carlucci and Stella Watson when Manners came hurtling down the street and collided with him.
In a victim impact statement read to the court, Ms Watson said: "His arm and head were locked into the bike.
"We could see that his arm was trapped into the bike at his shoulder.
"He kept shouting 'my arm, mummy, my arm!'".
She added: "Matteo then noticed that one of his teeth had been knocked out and he said 'my tooth's gone too, mum'.
"He also had burn marks right up the side of his face and around the back of his head.
"He was in so much pain, he kept screaming."
Ms Watson said other children would stare at her son's swollen head, broken arm and missing tooth when they walked in public after his release from hospital.
The court was told Matteo suffered sleepless nights afterwards.
Mr Carlucci said: "He could have killed my son.
"It was only luck that this wasn't a tragedy, nothing else."
He said the family did go to Legoland after two days in hospital with their son but the holiday was ruined.
Manners, of Stoke-on-Trent, swore at a prosecution barrister and police officers as the details were read out in court.
Amer Asghar, defending, said Manners had seen the little boy ahead of him and shouted "Watch!" before the collision.
He said Manners, who is stepfather to two young children, left the scene but turned himself into police 15 minutes later.
"He is not here to explain what went wrong but he is here to say sorry to the mother, the father and of course, young Matteo," he said.