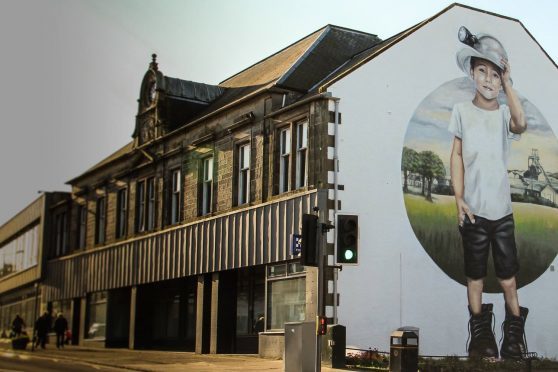 A striking new mural, commissioned to spruce up the side of a prominent Cowdenbeath building, is now complete – and is gaining rave reviews in the community.
The artwork, which celebrates the Fife town's mining heritage, has gone up at the gable end of the police station in Brunton Square and has fast become a talking point among locals and visitors alike.
It is the latest in a series of bids to brighten up Cowdenbeath and follows the widely-acclaimed Shutter Art project, which saw the same artist, Kerry Wilson, 32, paint scenes on shop shutters to represent the nature of the business inside.
The drawing for the new mural, which forms part of plans for a new heritage garden in Brunton Square, was agreed over the summer and scaffolding was erected in readiness at the start of last month.
Kerry, who is from Kirkcaldy said: "This is the first project that I have worked on at this scale so I was pretty nervous as to how it would turn out.
"Working on the scaffolding did prove to be a bit of a challenge, so we were relieved when it finally came down and we were happy with it.
"I had help on the project from Gordon Forbes and also Rose Shields, a 16-year-old who has been working with me on some street art projects in Glenrothes."
Kerry said she was also grateful for the support and advice of Amy Whiten, originally from Fife but now a director of Glasgow based company Recoat, who has designed and curated many large-scale art projects.
"Amy has been a big inspiration on my street art career and I hope that I can follow in her footsteps," she added.
"As far as I am aware, this is the biggest mural in Fife and I hope it might be the first of many."
Cowdenbeath Community Council said the new artwork was looking great and confirmed that work on the rest of the heritage garden – which will include lights at the mural – will continue next year.
Local police officers have also been full of praise.
Police Station looks amaze with this pic representing our community history! Town Centre Development Unit @FifeCouncil @kerrywilsonart ??? pic.twitter.com/o6kbdT8Yf1

— CowdenbeathPolice (@CowdenbeathPol) November 10, 2017
Pupils from Beath High School and members of a local youth group have been involved in the wider Shutter Art project, a collaboration between police, Fife Council and High Street business owners made possible thanks to funding from Cowdenbeath area committee's local community planning budget.
Andrew Walker, from Fife Council's town centre development unit, said the community response had been "overwhelmingly positive", making the mural project all the more worthwhile.
"Mining is an important part of what makes the town of Cowdenbeath and it is important to celebrate that," he added.
"Community buy-in with these projects is essential as it is the people of Cowdenbeath's town centre involved, so we want to make it a place they are proud of and will use to support all the fantastic local businesses."