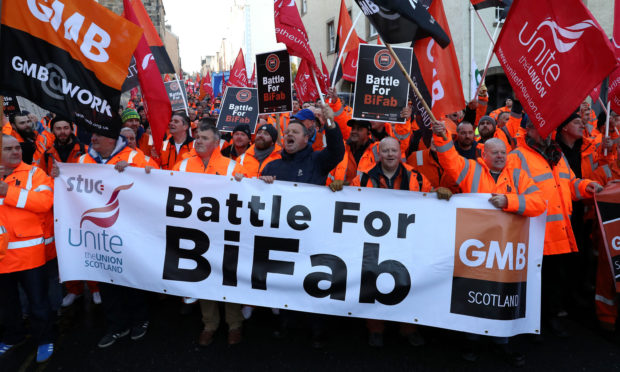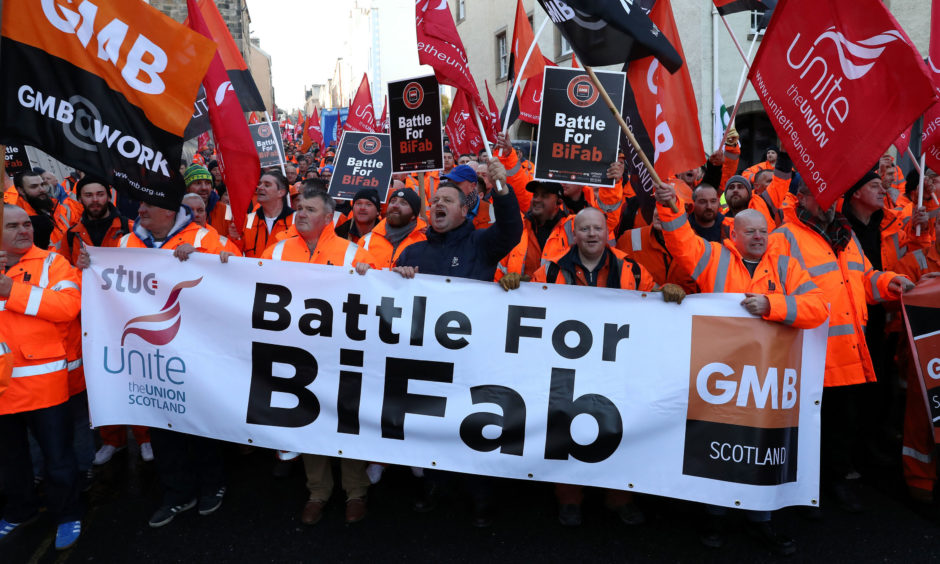 Hundreds of Fife jobs have been saved after high-level talks brokered a deal to secure the future of BiFab.
As many as 1,400 posts were at stake after the engineering giant warned last weekend that it risked entering administration because of cash flow problems.
Following protracted negotiations with the Scottish Government and Dutch contractor Seaway Heavy Lifting throughout Saturday, it has now emerged that an agreement has been reached that will see the short-term future of one of Fife's largest employers secured.
First Minister Nicola Sturgeon and business minister Paul Wheelhouse were among those taking part in discussions to save the firm, which produces equipment for the oil and gas industry.
In a statement, Mrs Sturgeon said: "I am pleased that after an extensive series of talks over the last week and two days of intense negotiations we have been able to broker a commercial agreement that lifts the threat of administration from BiFab and allows work on the current contract to continue."
Kirkcaldy MSP David Torrance said that he was "overjoyed" by the news, adding: "A resolution has been found  so that BiFab will be able to complete the contract and its workers get paid.
"I have to thank everybody that sat around the table."
The agreement meas that BiFab will receive payments to alleviate its immediate  cash flow concerns, lifting the threat of administration.
The Scottish Government has also indicated that it will, if necessary, make available a commercial loan facility to BiFab.
It means the firm can now complete its order for products for the Beatrice Offshore Windfarm.
While acknowledging that the short-term future of the firm had been safeguarded, the  First Minister added that some issues remained unresolved going forward.
She added:  "I know that this has been an anxious time for people employed at BiFab, as well as their families and the wider communities of Burntisland, Methil and Arnish and the trade unions have ensured that the importance of this company was made clear to all companies involved.
"All companies including BiFab have had to take difficult decisions to secure this outcome. While this deal lifts the immediate threat of administration, we recognise that there is a lot of work still to do to secure the long term position. Ministers will continue to work with BiFab, the trade unions and industry partners to identify ways to secure the long term future of renewables manufacturing on these sites."
Staff at BiFab's Methil and Burntisland facilities agreed on Monday to work without pay in a bid to safeguard the future of the yards.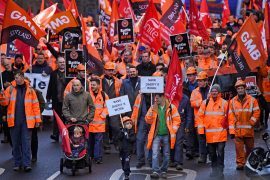 On Thursday, several hundred employees marched on the Scottish Parliament, demanding action at a political level to secure their livelihoods, while on Friday evening the economy secretary Keith Brown said that talks would continue for "as long as necessary" to avoid letting BiFab slide into administration.
Nicola Sturgeon even made an early exit from the Climate Change Conference in Germany to host the
crunch talks on the future of the Fife yards, as well as BiFab's additional complex in Arnish on the Isle of Lewis.