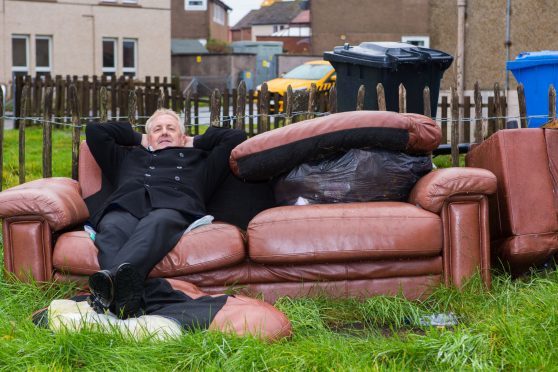 An outraged Fife councillor has claimed he could furnish his entire home with household goods dumped in the street.
John O'Brien said a three piece suite had been left lying on the pavement next to a table and chairs near his Methil home for more than six months.
Just yards further down the road he found a discarded double bed and a wardrobe, while in the next street he stumbled across an old cooker, a fridge and a washing machine.
Mr O'Brien said his discovery perfectly illustrated the major problem of illegal dumping across Fife.
"I could go along any street in Methil and furnish my house with fridges, washing machines and couches," he said.
The SNP councillor was speaking as Fife Council announced it was considering a campaign aimed at encouraging people to recycle properly.
"People don't want to recycle or pay to get stuff uplifted," he said.
"They just dump it and hope the good fairy will take it away in the night.
"I keep pointing it out to the council but as soon as it's cleaned up it happens again."
Mr O'Brien recently took part in a walkabout with the council's safer communities team where he highlighted the issue.
"In one garden there were about 50 black bags getting ripped open by seagulls and rats," he said.
"Enforcement officers were out but it can take weeks to sort out."
He added: "I would welcome a campaign if it would get rid of fridges, beds and chairs. I'm all for that.
"The problem is, in poorer areas like Methil and Buckhaven people are struggling to feed themselves so how can they afford to get uplifts?"
Liz Watson, safer communities area co-ordinator, said an initiative to ensure uplifts were available was being looked at.
"We're looking at how we can encourage people to use Fife Council services rather than a man with a white van," she said.
"Those are the issues that are causing problems with illegal dumping.
"A man with a white van comes along, uplifts rubbish for £20 then dumps it illegally.
"Sometimes uplifts from the council can be cheaper than a man with a van."