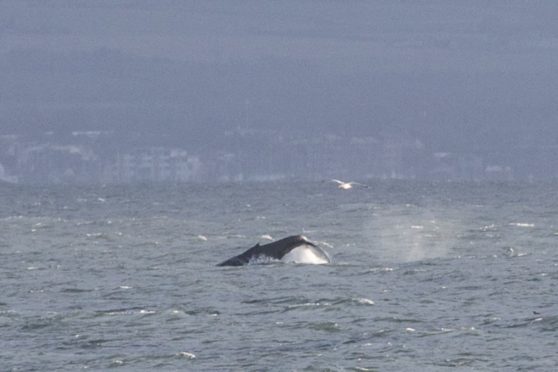 A humpback whale which thrilled wildlife watchers for three months last year appears to have returned to the Forth.
It is thought a whale feeding off the coast of Kinghorn is the same one which arrived in January last year.
Hundreds of nature enthusiasts have flocked to the village and coastal viewpoints along to Aberdour in the hope of seeing the massive mammal, thought to be around 35 feet long.
Just a short put together video from Saturday 6th January 2018 off Kinghorn.. Sorry quality not brilliant ..

Posted by Peter AndRachel Hazlehurst on Wednesday, 10 January 2018
Humpy, as some have nicknamed it, was first spotted from Kinghorn on January 2 and put on a show for spectators at Kinghorn Beach at the weekend, surfacing repeatedly for around six hours.
Wildlife enthusiast Ronnie Mackie, who lives in the village and set up the Forth Marine Mammal Project group on Facebook, said: "There have been hundreds of people watching all round the Forth.
"The whale has been feeding up near Oxcars lighthouse and near Inchmickery and Inchcolm. People on the Edinburgh side are able to see it as well."
He said it was yet to be confirmed as last year's whale but its arrival at the same time of year is exciting.
"You can tell by the pattern on the tail if it's the same one but because of the weather we haven't had good enough photographs yet to have them compared.
"It is here at exactly the same time and for the same reason; there are lots of fish in the Forth just now."
Paul Smith, British Divers Marine Life Rescue co-ordinator for Fife, is keeping a watching brief from shore.
He said: "It's highly likely it's the same whale as last year.
"Instead of making the big migration some humpbacks, probably young ones not of mature age to breed, are staying around Scotland. We've had one at St Cyrus and two at Aberdeen.
"It's there because there is food and it will hang around as long as there are fish. Something that size takes a lot of feeding."
He urged those hoping to catch a glimpse of Humpy to do so respectfully.
He said: "People should stick to the marine wildlife watching code. Don't try to interact with it with boats, don't get close to it and don't harrass it."
Last year's whale was believed to be accompanied by a calf and after it had been in the Forth for a few weeks it began breaching – jumping out of the water and turning – allowing photographers to capture some stunning shots.
The only sign of a calf this time is one photograph which appears to show a second blow. So far there has been little breaching but it is expected that may increase.