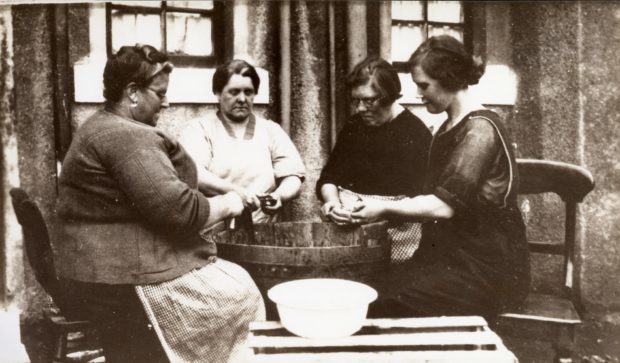 The 50th anniversary of the death of Fife playwright and poet Joe Corrie is to be marked by a major exhibition.
Fife Cultural Trust is appealing for the public's help to donate artefacts relating to the local legend.
An exhibition about the Cardenden author's life and work will be put on display at the Lochgelly Centre from May 4 until August.
Hewers of Coal and Verse will also feature the work of local pitman poets Peter "Pindar" Leslie and Robert McLeod.
The trust, which is sponsoring the event, is encouraging anyone in the area who has memorabilia, photographs, posters or publications about the authors to take part.
All items donated will be fully acknowledged and returned at the end of the exhibition.
Programming and engagement officer Gillian Parsons said: "Already a number of people have been in contact and there has been a terrific amount of local interest.
"Within the community there will be people who have memories of Joe Corrie and the Bowhill Players and their dramatic performances.
"If anybody has books, pictures belonging to relatives or even reminiscences, we would love to see them, hear them and include them."
Lochgelly poet William Hershaw, who recorded Corrie's songs on the CD Cageload of Men, said: "Joe Corrie was internationally famous in his day – his play, In Time of Strife, which deals with three mining families trying to cope during the General Strike and the lockout of 1926, was performed in London, Leipzig and Prague.
"But younger folk don't know about him. It is important that we celebrate the man and his work.
"With Joe's daughter Morag's permission I reconvened the Bowhill Players as a musical ensemble in 2012 to perform his songs and poetry."
The exhibition will start with a free concert in the town centre on May 4.
Other events are planned, including an exhibition of mining drawings based on the theme of the Stations of the Cross by artist Les McConnell.
Anyone who would like to contribute to the Hewers of Coal and Verse exhibition should contact Gillian at gillian.parsons@onfife.com or 03451 555 555 ext 402224, or leave a message at the Lochgelly Centre on 01592 583303.