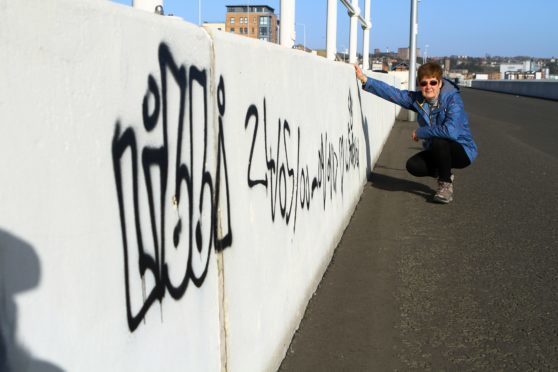 Disrespectful dog owners and garish graffiti are tarnishing one of Kirkcaldy's key attractions, it has been claimed.
Community campaigner Christine May said vandalism to the town's Promenade is steadily getting worse, with spray paint and dog mess on large parts of the popular walkway.
Recently after a multi-million pound refurbishment, Mrs May said the problem had escalated during the winter months.
"It's disgusting and it is something that has become much worse recently," she said.
"I think it has to do with the dark evenings and the people who are letting their dogs do this think that they can act oblivious to it. What sort of individuals are these people?"
The new promenade was reopened in December 2014 following a £9 million renovation.
Running the length of the town's waterfront, the walkway is used by hundreds of people every day and has been touted as the focal point for a proposed regeneration of the town centre.
Recent vandalism to the seawall has become apparent and, while acts of graffiti have been largely isolated, there are fears failure to address the matter could allow the problem to gain a foothold.
Mrs May, who has championed the revamped waterfront, said while she understood the pressures Fife Council faces in tackling dog fouling and vandalism, budget cuts would not help tackle the issue.
"It is symptomatic of the effects in the reduction of council spending," she added.
"If there is a visible element of the cuts being made then I think this area is one of the most obvious signs. They do try their best and they are wonderful with the help we get in organising the Highland Games.
"I know how hard they work but they cannot be everywhere all of the time."
Mrs May's comments come following vandalism to another Fife visitor destination.
Graffiti has appeared on St Andrews Castle, with spray paint tarnishing the landmark's stone walls.
Mark McCall, service manager at Fife Council, said: "Dog owners have a legal duty to clean up every time their dog fouls in a public place.
"If you get caught not clearing up after your dog, you could receive an £80 fine.
"Graffiti is a serious crime that impacts all members of the community and the removal of graffiti is costly to the Council.
"We aim to clean graffiti as soon as possible after it is reported to us, particularly if it is offensive.
"We rely on the public coming forward and reporting instances of dog fouling and graffiti."