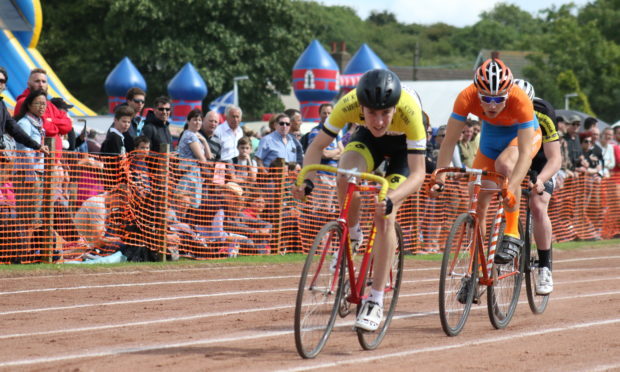 Inverkeithing Highland Games is to host three major national cycling events.
The 2018 Scottish Cycling Championships 800 metre youth event, plus the 4,800m and 6,400m senior events will all take place as part of the popular occasion on Saturday August 4.
The announcement by the Scottish Highland Games Association (SHGA) is being seen as a huge coup for the Fife town, which also featured the 6,400m event in 2016.
It will also add to the sense of anticipation around the 2018 games after last year's gathering was cancelled due to poor weather.
Most Highland Games are held on grass surfaces but Inverkeithing's 400m red blaize track makes it a favourite venue for cyclists who can build up more speed there.
Local councillor Alice McGarry said the track was likely to be upgraded this year, a move welcomed by the games association who said it would guarantee its status as an all-weather track.
SHGA secretary Ian Grieve said he was looking forward to the additional youth and adult cycle championships at Inverkeithing this year.
"This will supplement the existing handicap events and I hope it will be well supported," he said.
"A good turnout of cyclists will make for an exciting afternoon of cycling on a very fast track, the only red blaize track on the Highland Games circuit."
Craig Hardie, of Hardie Bikes in Cairneyhill and a past championship winner, said he was delighted with the increasing focus on cycle track events.
"It is great that more cycling events are being added to Inverkeithing Highland Games, which always produces exciting racing for spectators every year," he said.
"It was always great to race there as, being from Dalgety Bay, it was a home game for me."
John Woodrow, of Sandy Wallace Cycles in Inverkeithing, added: "I am sure this will draw more competitors and visitors to an already successful games.
"This is just reward for all the time and effort the organisers and helpers have devoted over the years."
Inverkeithing Highland Games first appeared in the local burgh records of 1652.
It is said that Cromwell's forces used the 12th Century tower of St Peter's Church as a landmark on their way to the battle of Inverkeithing the previous year.
The same tower looks down on the Highland Games beside Inverkeithing Bay.