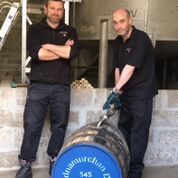 A remote Highlands community is giving its young people a cask of whisky for their 18th birthday as part of an initiative to drive the economy and encourage families to remain in the area.
The Ardnamurchan Trust, in association with Fife based Adelphi Distillery, has said it will buy a cask of maturing spirit from the Ardnamurchan Distillery on behalf of every local resident aged between 10 and 17 years old.
On their 18th birthday, the young person will be given the option of selling the cask back to the distillery with the profits helping to finance their tertiary education or support their future training and careers.
The scheme is the brainchild of the Ardnamurchan Trust, a Scottish registered charity, in co-operation with Alex Bruce, Managing Director of Adelphi, which owns the Ardnamurchan Distillery.
Launching the initiative, Alex Bruce said: "We're very proud to be unveiling this brilliant scheme during the Year of Young People. This programme brings together the Ardnamurchan Distillery, local businesses and residents, and has the support of Scotland Food and Drink, the Scottish Government, the Portman Group and Drink Aware.
"This scheme will benefit young people in the Ardnamurchan area, who will directly profit from the sale of their local whisky.
"We'll also be offering additional support by forging further links with the community and local businesses, as well as offering work experience and training throughout all aspects of the business in both Ardnamurchan and Fife.
"In addition to supporting the next generation from an early age, it also gives us security of an established long-term employment pool in the area."
The scheme's architects said the initiative would encourage diversification in the area, promote collaboration between businesses, and support the education of the local population. It would also incentivise people to return to the area, addressing the difficult issue of rural depopulation.
The Ardnamurchan Trust said it was equally keen to provide direction and long-term employment goals to youngsters in the area.
It said: "The Trustees are immensely grateful to Adelphi for making it possible for the young people of the area to be given the opportunity to learn about all the different aspects of one of Scotland's most important manufacturing and exporting businesses, as well as the hope of realising a financial gain when the casks are sold to help in reducing the financial burden faced by young people entering further education.
"With the ongoing support of the Scottish Government and Scotland Food & Drink, we hope the scheme can be replicated through other community initiatives across the industry."
Rural Economy Secretary Fergus Ewing said: "This is a fantastic, innovative and thoughtful initiative by the Ardnamurchan Trust and I applaud everyone involved with it.
"It is particularly fitting that this is being launched during the Year of Young People and makes for a fine legacy from this year's events and activities.
"Scotland's whisky distilleries do much to support their local communities and economies, but equally those distilleries could not exist without the skills and expertise provided by people living in those communities."