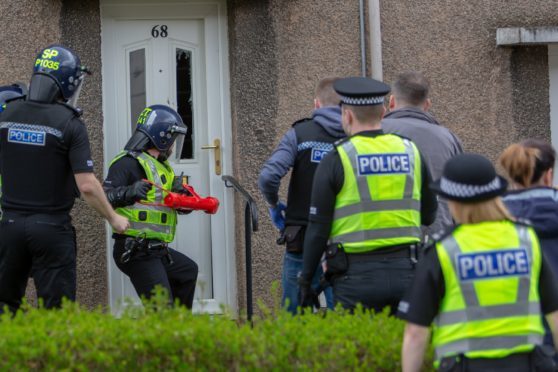 Police have seized more than £360,000 of drugs in the Kirkcaldy area alone since December, new figures have revealed.
Heroin, cocaine, ecstasy and cannabis have all been pulled off the streets by officers involved in a series of raids and a number of people have been reported to the procurator fiscal.
Almost 70% of the drugs were found in the north of Kirkcaldy, where £253,342 worth was seized.
The area was also home to the two largest drugs busts – in April £101,200 of cocaine and cannabis was recovered and the following month a total of £150,312 of ecstasy, cocaine and cannabis was found.
Police said they would continue to carry out proactive house searches where sufficient information is received and a search warrant is approved by a sheriff.
The figures were presented to members of Fife Council's Kirkcaldy area committee where police outlined their activity in the area between October 18 and May 10.
Councillors hailed the drugs statistics as extremely positive.
Committee convener, Councillor Neil Crooks, said: "These big hits are made because the public provides the right information at the right time for police to act.
"When you're taking cocaine off the streets in Templehall in particular, it has a positive effect on the community.
"They see action in response to the calls they are making and I want to say thank you on their behalf."
The Labour councillor urged the public to keep reporting any suspicious activity to the police.
"They are not accepting the abuse of drugs. This is a lot of drugs taken off the streets," he said.
"If the public keep providing the information, hopefully these figures will keep increasing until we cut off the supply line."
In March, police revealed 200 people had been arrested across the whole of Fife since the launch of a major initiative to crack down on drug dealing.
More than £530,000 of drugs, including cocaine, crack cocaine, heroin, ecstasy and cannabis, was seized in the region during the first year of Operation Prospect, which was launched in April 2017.
In addition, almost £98,000 in cash and almost £2.5 million worth of assets were identified for seizure or restraint under the Proceeds of Crime Act.