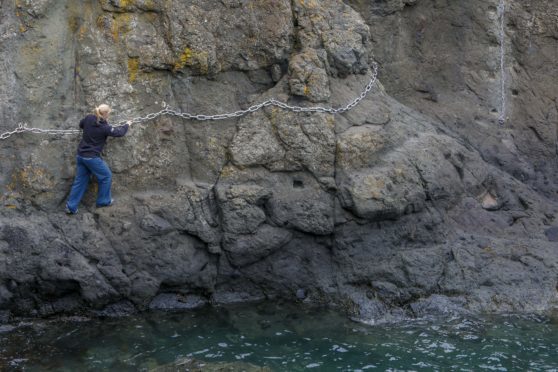 Calls for better signage at one of Scotland's most picturesque, yet potentially deadly, tourist attractions have been stepped up after yet another busy summer for the emergency services.
Combining climbing, crawling and clambering, the Elie chain walk sees thousands of people taking on the challenge as part of the Fife Coastal Path every year.
The Anstruther RNLI lifeboat crew and partner agencies are typically called out six or seven times a year to rescue stricken walkers on the route and visitors have been urged to properly prepare to prevent resource-intensive rescues.
The latest safety message comes as a BBC documentary series starts on Tuesday which features the local lifeboat crew rescuing a woman who fell on the popular coastal walk and suffered multiple fractures to her arm.
David Corstorphine, community safety officer at Anstruther, welcomed the growing popularity of the coastal path and the chain walk section west of Elie, which hugs the cliffs towards Kincraig Point and Shell Bay.
However, although there are some warning signs in the area, he believes further efforts are needed to educate people on the dangers.
He said: "This is a wonderful facility and the popularity is getting greater because people hear about it and think it's great – it's like an obstacle course.
"We want to encourage people to come, the views are magnificent, it's stunning scenery and we want people to come and enjoy this, as long as they know what they are taking on.
"And if they are not capable of taking the low water route then there's an above water line route over the top of the hill which meets up with the path about half a mile away on the other side.
"But if people are not aware of the tides and they are not aware of the slippery conditions, they are not aware of the rock climbing ability that you need to get over some of the rocky areas, some of them are being caught out – epecially if the tide is on its way in.
"We would strongly advise people to check out the tides and only go when there is sufficient low tide to get from one end to the other.
---
>> Keep up to date with the latest news with The Courier newsletter
---
"Unfortunately some people will get half way along and they will find that the tide has come in, and that's when they will rely on the RNLI to come and pick them up."
A number of people have died on the route over the years while many more have been seriously injured, prompting calls for the section to be shut off completely.
Methilhill pensioner William Low tragically fell 50 feet and died at nearby Kincraig Point in 2009, while the sight of a rescue helicopter airlifting people to safety occurs two or three times a year.
Mr Corstorphine revealed talks are planned with local service agencies for more joined-up thinking to prevent call-outs, while the Anstruther station is looking at the provision of more signs warning people of the risks.
"We're also investigating – and this is at the very early stages – the possibility of a dedicated phone line a bit like they have over at Cramond Island, which people can use to find out the tide situation and possibly the weather situation to see if it is advisable to go.
"We're aware of some leaflets that have been produced locally in the shops in Elie, but we would like to get some poster-sized ones that we can put at either end so people can see what they are taking on, rather than find themselves in the situation where they say: 'I've gone too far here, I now need help'."
Martin Macnamara, also from Anstruther RNLI, estimated around 80% of people in need of rescuing are just "unlucky", but urged people to take heed of advice.
"This particular woman you'll see on Tuesday night, her footing gave way and she held on to the chain and suffered a triple arm break by holding on to the chain," he said ahead of the Saving Lives at Sea series being aired.
"She was prepared, she had the right footwear on, she told people where she was going, she had a means for calling for help. She just got unlucky and that will happen.
"But there is avoidable things – people who get cut off by the time is avoidable. There's a number of ways to help yourself."
Various websites and apps have been recommended – such as magicseaweed.com which is used by surfers – to check tide times at Anstruther Easter and also Methil, as the Chain Walk is located in between the two coastal points.