An investigation has been launched after two girls were injured by a stray firework at an organised display in Glenrothes.
Kyla Cunningham, 13, screamed in terror as a rocket careered into the crowd and burned her leg at the event at Fife Airport on Sunday night.
As the device exploded sparks flew into the faces of people standing nearby, including a six-year-old girl who was left shrieking with fright.
Luckily both girls sustained only minor injuries but Kyla's dad Michael claimed the outcome could easily have been catastrophic.
"If it had come in a bit higher it would have hit her in the face," he said.
"As it was, she's left with a big hole burned in her jacket and a sore red mark on her leg."
Witnesses said the firework was one of three to take off in the direction of the crowd.
They claimed stewards did not check on the welfare of the injured children as fireworks continued to be set off.
Michael, from Glenrothes, who was with Kyla, her brother Ross and other family members at the time of the incident, said he had complained to organisers via their Facebook page but had received no response.
"I'm annoyed because they've not even asked how Kyla is," he said.
"She got a real fright and this will put her off fireworks for quite a while.
"A wee girl next to us got it in the face."
The families involved were all standing behind safety barriers and questions have been raised as to whether they were far enough back.
"For a fireworks display like that there must be guidelines that we should be so far back a rocket can't reach the crowd," Michael said.
Previous fireworks displays organised by Fife Airport and its Tipsy Nipper restaurant have been described as well organised and passed without incident.
Fife Airport and the Tipsy Nipper were contacted for comment but said they would not be making any statement while the investigation was ongoing.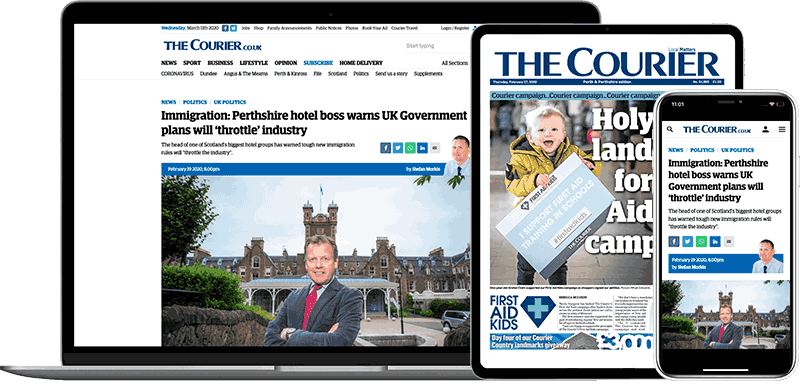 Help support quality local journalism … become a digital subscriber to The Courier
For as little as £5.99 a month you can access all of our content, including Premium articles.
Subscribe