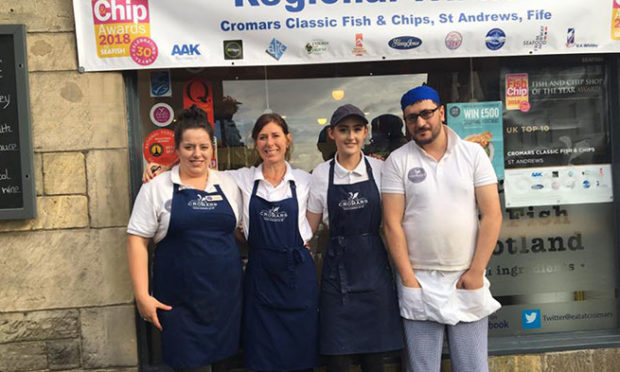 A Fife chippie is serving a fat-free dish to celebrate St Andrew's Day.
Health-conscious diners can treat themselves to a takeaway from Cromars, in St Andrews, without worrying about the calories.
The grilled hake is served with a whisky-dressed salad to honour Scotland's patron saint.
The dish also celebrates the award-winning chip shop's status an official champion of Scottish Water's campaign to rid sewers of fatbergs.
Shop owner Wendy Frame said: "To celebrate us becoming Scottish Water's first FOG (fats, oils and grease) champion and the fact it is St Andrew's Day we are serving up a fat-free fish – grilled hake with a special whisky-dressed salad.
"£1 from every sale will go to charity, to the Royal National Lifeboat Institution."
Cromars, Scotland's Fish and Chip Shop of the Year, is backing a project in St Andrews to encourage businesses which serve food to properly dispose of fats, oils and grease.
Out of 130 commercial kitchens visited in the town by Scottish Water and Environmental Compliance & Services officers, only six used grease traps and only Cromars used one which was the right size.
The chip shop also uses solids strainers on its sinks and a system separates skin and starch from potato peelings for easier recycling.
Scottish Water clears on average 95 blockages a day, at a cost of £6.5 million a year.
Recent footage showed the build-up of fat, oil and grease and 'fatbergs' in the underground network in St Andrews.
The waste is to be removed next month and it is hoped the campaign will prevent it returning.
Wendy said: "Everyone is much more aware of the environment these days and as a business we know we have a duty to protect it.
"This campaign has made me much more aware of what is under the ground – and got me thinking of fatbergs in the sewer and the amount of damage they can cause from flooding our streets and buildings to polluting our beaches."
Mike Will, of Scottish Water, said: "It is heartening our campaign has been so well received in St Andrews and that businesses are listening and taking action to better dispose of FOG.
"If successful, there are already plans for this to be rolled out to other parts of the country, where drains could also be put on a diet."