Anxious parents walked alongside a "notorious" part of the A92 to show the dangers facing children if school buses are withdrawn.
Fife Council has suggested the pavement by the busy trunk road is an available walking route to Auchmuty High School, in Glenrothes, from the Tofthill estate.
Youngsters there are among 800 across Fife who could be affected by a proposed new policy likely to result in transport being withdrawn for some living within two miles of secondary school or one mile of primary schools.
If the almost two-mile route between Tofthill and Auchmuty is reclassified as recommended under the new policy, children would join the A92 pavement at Balburnie Burns.
They would cross a road at the Tullis Russell roundabout and negotiate narrow sections of pavement, with lorries and buses thundering past, before reaching a footbridge and underpass near the school.
Parent Collette Milne, who organised the walk, said: "This is a notorious part of the A92. It is the main haulage route to Dundee.
"Parts of the path are narrow, there's very poor lighting, it's slippy. This is a 40mph road, recently reduced from 50mph because of safety concerns, but people still speed past."
On another section, she said, children would have to walk close to 60mph traffic and she added: "It's just not safe."
Parents were accompanied on the walk by local councillors John Beare, Jan Wincott and Fiona Grant.
Mr Beare, of the SNP, said council officers were "very aware and very sensitive" of the particular circumstances of Tofthill and some other parts of Fife and added: "I am very hopeful solutions will be found."
Fife Council education convener Councillor Fay Sinclair stressed routes would be assessed by a team of education, transport and police officers when a policy was adopted.
Some bus routes, she said, had been in place for more than 20 years and there had been significant infrastructure improvement and development since.
She said: "These are the types of anomalies we are looking at.
"Certainly, safety concerns have to be part of that. We have to look at the condition of pavements, the width of footpaths, the volume of traffic and the gaps between traffic if there are roads to cross."
The policy, prompted by a complaint to the Ombudsman, aims to provide consistency across the region and assumes children will be walking with an adult.
A documented listing affected areas states the Tofthill route is predicted to be available and recommends transport is not required.
The consultation continues until December 14 and results will be presented to the council's education and children's services committee in January.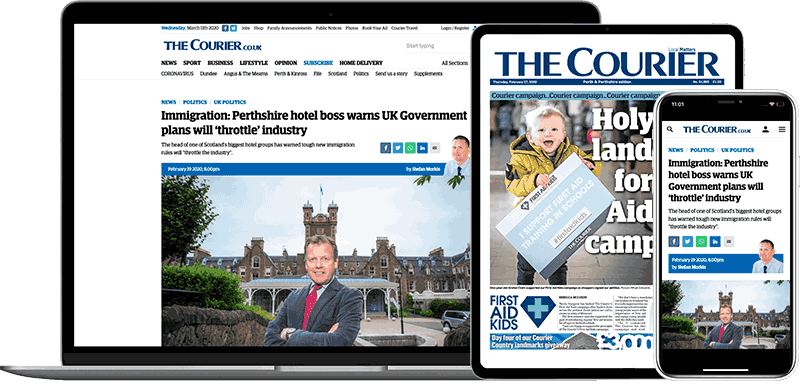 Help support quality local journalism … become a digital subscriber to The Courier
For as little as £5.99 a month you can access all of our content, including Premium articles.
Subscribe