A man has died in a Hogmanay road smash on the Standing Stane Road in Fife.
The tragedy, which happened shortly after 10am on Monday, was described as "a truly devastating end to the year" by one local councillor.
Members of the public raised the alarm after the car the man was driving left the road on the stretch of the A915 near Kirkcaldy just east of the Checkbar junction.
Police Scotland has asked for witnesses to contact 101, quoting incident number 0832 of December 31.
The force said it would be releasing no further details about the man until all next of kin had been informed.
However, he was named locally as Ryan Lee Dorrill,  25.
Mr Dorrill is believed to leave behind a partner. He was the father of two young children.
A sister, Victoria Louise, shared a link to the tragic story, adding: "Fly high big brother, you've earned your wings."
Police, ambulance and fire crews attended the scene on Monday morning.
The route was closed in both directions between Checkbar Road and the B930 Percival Road.
Officers diverted traffic from the scene.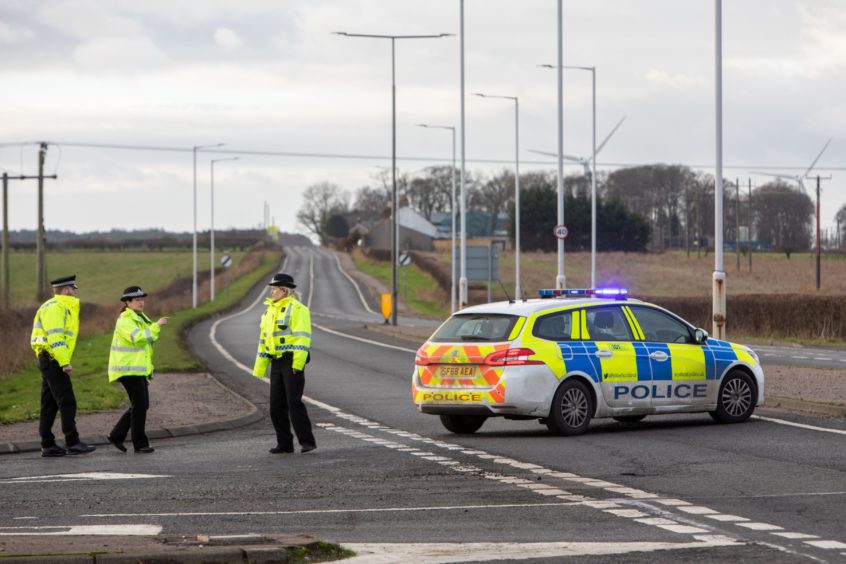 Local Labour Councillor David Graham said: "I am absolutely devastated to hear the news that yet another driver has tragically lost his life in an accident on the Standing Stane Road this morning.
"My thoughts go to his family and friends at this very sad time for them.
"These incidents are also incredibly difficult to manage for the emergency services who attended the scene and my appreciation goes to them for the excellent work that they do in situations like this.
"Such a sad day for everyone in our community, a truly devastating end to the year."
The one-vehicle accident happened just a mile and a half from where two 17-year-olds were fatally injured in a horror crash in November.
Ethan King died at the scene after the accident on the A915 at Wellsgreen on November 11. His friend Connor Aird passed away days later at Edinburgh Royal Infirmary.
SNP Councillor John O'Brien, who represents Buckhaven, Methil and Wemyss villages, has made repeated calls for the Standing Stane Road to be made safer.
Mr O'Brien said introducing a 40mph zone along the whole of the notorious Fife road was "overdue".
He continued: "It's terrible that another tragedy has occurred.
"I'm looking for more safety measures on this road because there are more and more accidents.
"There are between 50 and 60 incidents per year and that's not good enough.
"What I'm calling for is a 40mph limit on that road. I think that is overdue."
Mr O'Brien and fellow SNP Councillor Ken Caldwell have been in touch with Colin Stirling from Fife Council's roads department over the matter.
Mr Stirling has outlined a number of road safety measures to be introduced on the A915 including a give way sign on Checkbar Road, better road markings, cleaned-up signage and removal of vegetation to improve visibility.
"I've asked for a report to Levenmouth Area Committee early in the New Year," said Mr O'Brien.
"Councillors have growing concerns about this road."
There have been multiple tragedies over the years on the route linking Kirkcaldy and Levenmouth, which has long straight stretches and blind summits.
Mr O'Brien added: "I remember as a young boy hearing about people being killed on that road."