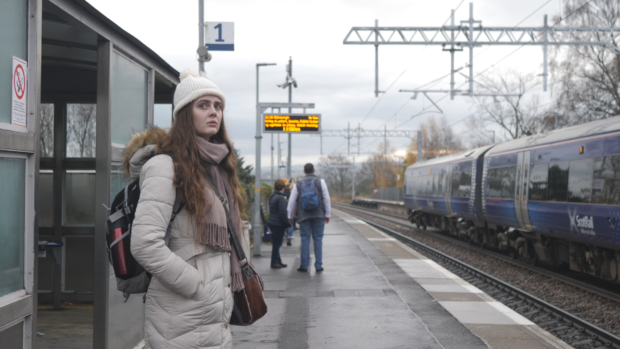 A Fife director is hoping to release a new film with a focus on coping with depression over the festive season in time for Christmas 2019.
'Cold', which has been written and produced by Kirkcaldy film maker Gavin Hugh, is being filmed in locations across Kirkcaldy, Stirling, Edinburgh and Aviemore, with two days of filming already in the can.
It is a huge personal undertaking for Gavin, who has previously worked for STV and Sky News and has been running his own Kirkcaldy-based video production business, MidgieBite Media, since late 2017 while also working part time at the Scottish Parliament as an assistant to Dundee City East MSP Shona Robison.
However, with the production funded through goodwill and his own pocket so far, Gavin and his team plans to launch a crowdfunding campaign early this year to help finish the film and release it in winter 2019.
"For a lot of us, Christmas is a happy time of year where we can celebrate and put all of our troubles to one side but for people suffering with depression it can be incredibly difficult to do that," Gavin explained.
"We focus on how the pressure of trying to take part in the festivities and putting on a brave face just isn't something that can be easily switched on and off in time with the days on a calendar.
"Taking care of your own mental health is easy to overlook. I've had my own issues with anxiety over the years, and some of the people that I'm closest to in my life have suffered from depression.
"Mental health issues can be challenging not just for the individual but for the people around them who are trying to offer support.
"As this film is drawing on a lot of personal experiences, it's really important for me that our film gives an honest portrayal of these issues.
"While there's an increasing awareness of mental health issues in mainstream society, we're really hoping that the film can help encourage people to still be mindful of them at this time of year."
Gavin has been involved in a lot of local film projects over the years, particularly with horror filmmakers Hex Media, and has recently been working closely with Robbie Davidson on his upcoming World War Two epic 'Dick Dynamite'.
Most of the primary cast for Cold are Fifers, including Andrew Gourlay, Hana Mackenzie, Craig Seath and Iain Leslie, as are most of the technical crew.
Lead actress Rowan Birkett, a friend of Gavin's from student days at Stirling University, has been travelling up from Ambleside in England to take part, while Dundee is also represented in Grant R Keelan, a city-based photographer who acts in the film as well as working in the technical team.
"It's genuinely been great to work with so many talented local artists," he added.
More details about the crowdfunding campaign will be announced in due course, and the plan is to hold a premiere of the new film in Kirkcaldy later in the year.