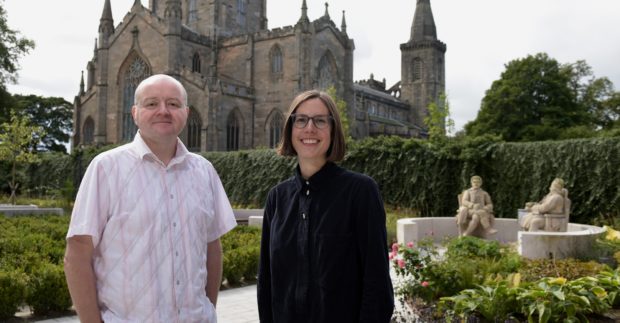 The Dunfermline Heritage Partnership has hit the ground running in its quest to tell future generations about the town's past.
The group, which secured funding of £288,200 from the Heritage Lottery Fund Great Places award last year, has carried out an audit of the town's assets in one of the first steps in a three-year project.
The information is being distilled into a guide, in which Dunfermline's history is summarised into six themes – Auld Grey Toun, Andrew Carnegie, music and art, pilgrimage, royalty, and industry.
Grant Williams, who was appointed project manager last May, said the town had much more to offer than many people realised.
"The Outlaw King is helping to put the Robert the Bruce story on the international stage but there are many other highlights, such as the big music stars who came to play here," he said.
A number of other initiatives have taken place to help spread the word to local residents.
A programme of Curious Dunfermline walking tours sold out during the Outwith Festival; an educators/teachers events ran at the Carnegie Birthplace Museum and a new website is being developed.
Dunfermline storytelling was launched across primary schools in the area by the duo Mac A Story and now 900 youngsters will be taught about the town's heritage as the programme is rolled out throughout 2019.
Future plans include a series of heritage activities as part of wider events, such as the food and craft weekend and Outwith Festival.
Dunfermline was one of nine towns in Scotland to secure funding in the first year of the Great Places scheme.
One of the early achievements was being selected to host the first national meeting of all the nine successful towns to update the Heritage Lottery Fund on progress.
Grant said the early part of the project was focusing on encouraging local residents to spread the word about Dunfermline's exceptional heritage.
"No one is a better advocate for a place than the people who live here," he said.
"Many already know that the Dunfermline has a good story to tell when it comes to history. Our job has been to collect the best stories so that it's easier for local residents to tell their friends, family and visitors.
"For tourists and visitors, there's no more powerful recommendation than word of mouth by locals.
"As well as attracting more visitors and generating income for the local economy we hope that it builds local pride in the exceptional history of this town."
Looking further ahead, a new heritage festival in 2020 will help the team reach new, external audiences.