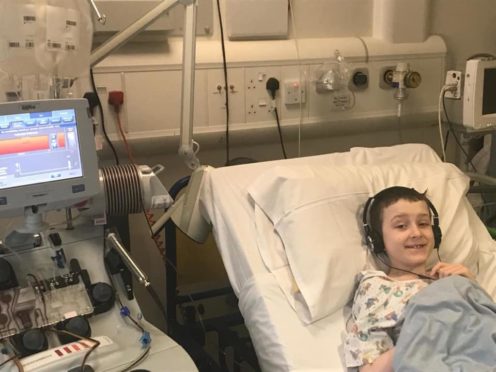 A Fife schoolboy with relapsed cancer has joined a clinical trial pioneering a new treatment.
Aaron Murphy, who at just 11 is facing a cancer affecting nerve tissue called neuroblastoma for a second time, has joined a trial of treatment using anti-GD2 T-cells at Great Ormond Street Hospital (GOSH) in London.
Dad Dougie, 40, of Dunfermline, said it is currently Aaron's only hope of recovery.
"The problem is if you relapse with neuroblastoma there is no definitive treatment for it, so we'll try this and see if it works.
"This is a stage one trial, so it's the first time it has been tried on patients. Previous parts of the trial have been in a laboratory.
"We're fully hopeful because we've heard there have been good results when they've used it for leukaemia."
Dougie and Aaron recently returned from London, where Aaron, a pupil at McLean Primary School, had a biopsy taken and T-cells harvested using a catheter at GOSH.
The T-cells, which are part of the immune system, will now be genetically modified in a lab to make them more effective before being transferred back to Aaron in about a month's time.
"They're going to take the cells to the laboratory and give them a bit more extra juice, and make more of them, before giving them back to us," said Dougie.
Aaron first became ill shortly before his fourth birthday and after tests Dougie and his wife Louise, 40, were given the devastating news that their son had stage three neuroblastoma.
Over the next six months he underwent chemotherapy followed by an eight-hour operation to remove the majority of the tumour.
Following more treatment including radiotherapy, brave Aaron was back at school.
After five and a half years in remission, Aaron's cancer returned in 2017. The first sign was a lump at the top of his leg.
After high-dose chemotherapy failed to destroy the tumour, the family has their hopes pinned on the T-cell trial.
They have also set up a fundraising page – solvingkidscancer.org.uk/Aaron – in case the T-cell therapy is unsuccessful and they need to seek treatment not available on the NHS.
Despite repeated hospital visits and procedures, Aaron's parents described him as a "happy young man, full of energy and banter" who loves playing his Xbox.
Dougie added: "He takes it all in his stride to be honest. He's a very switched-on young man and he asks a lot of questions. We try to keep him as informed as we can but he's still a child.
"We've been trying to keep things as normal as possible, but he tires very easily and if he goes to school he can only manage about half a day."