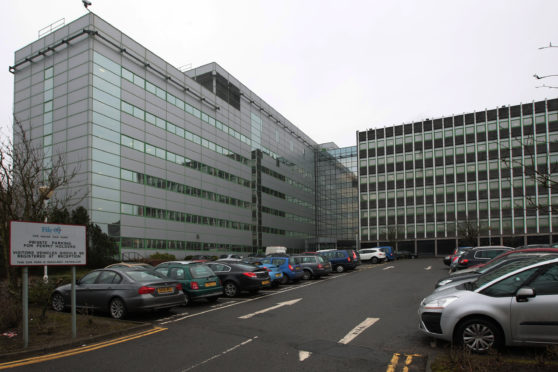 Staff in Fife have escaped the controversial workplace car parking levy for at least the next two years.
Fife Council has become one of the first in Scotland to officially rule out using the new power to charge for car parking spaces at places of employment.
Local authorities in the north-east knocked back the proposals last month but Fife is the first to do so in Courier Country, although Conservative group leaders have vowed to oppose the tax.
However, Fife Council refused to press neighbouring local authorities to make the same pledge, in a bid to prevent commuters from the region being hammered.
A controversial proposal allowing local authorities to tax employers for spaces provided for employees formed part of the Scottish Government's budget.
Fife Council's SNP-Labour administration has now pledged not to introduce the tax, which it is feared would be passed onto workers, while it remains in power.
The next local government elections are due to be held in 2021.
Conservative group leader on the council, Dave Dempsey, had called for council leaders to rule out the tax in future years and write to counterparts in other councils urging them to do likewise as many Fifers drove daily to Edinburgh, Dundee, Perth, Glasgow and other areas for work.
He said: "Fifers will be impacted if this levy is considered in other areas.
"That's why the people with most influence in this council, the council leaders, should be writing to the other councils asking, urging, inviting them to join us in not adopting this scheme."
Conservative councillor for Cupar, Tony Miklinski, said the lowest paid workers would be hardest hit if employers charged them to park.
He said: "There's no discrimination in this tax, there's no recognition of ability to pay."
Urging the council to rule it out indefinitely, he added: "It's bad policy, it will always be bad policy. A council election won't change that."
The council's Labour co-leader David Ross said circumstances of cities in particular were completely different to those of Fife, including environmental concerns.
He said: "I don't want to presume to tell those councils how they or their communities and other stakeholders should approach this issue.
"If there are any proposals in future brought forward by neighbouring councils that we think will impact on Fife residents then we will make our concerns or otherwise known on the specifics of that.
"We will act vigorously to protect any interests of our constituents in Fife."
The administration ruled out the levy in its budget due to Fife's mixed urban and rural nature and lack of suitable public transport.
Mr Ross added: "We committed until the next local election but we can't commit the council beyond that."
The power for individual councils to impose a workplace car parking levy was including in the government's budget by agreement between the SNPs and Greens.