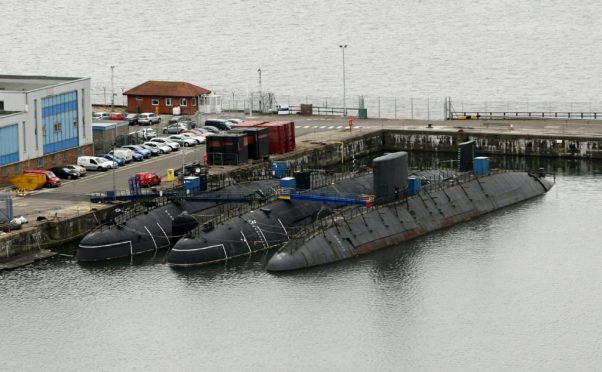 The Ministry of Defence has been condemned for a "dismal" failure to dispose of obsolete nuclear-powered submarines, including seven languishing at Rosyth.
The MoD has not disposed of any of the 20 boats decommissioned since 1980, a National Audit Office report said.
Local SNP MP Douglas Chapman said: "As this damning report points out, it is unacceptable that consecutive British Governments have for years ignored this issue and instead burdened the communities of Rosyth and Devonport with these ageing subs on their doorsteps.
"Nor should the taxpayer be faced with an ever increasing massive bill just to keep them sitting idly in our dockyards."
The vessels are being stored at the two yards while arrangements to safely dispose of them have been delayed for years.
At Rosyth, Dreadnought arrived in 1980, followed by Churchill and Swiftsure in 1991, Revenge in 1992, Resolution in 1994 and Repulse and Renown in 1996.
All the subs stored in Fife have been defuelled. Work has started at Rosyth on dismantling two of the craft.
---
>> Keep up to date with the latest news with The Courier newsletter
---
However, nine other vessels still contain nuclear fuel and the failure to address the issue risks damaging the UK's international reputation as a "responsible nuclear power", the Government has been warned.
Meanwhile, costs have rocketed.
Since 1980 the MoD has spent half a billion pounds on storing and maintaining the retired fleet.
Because of an 11-year delay, the budget for the defuelling project has increased by 57% from £175 million to £275m.
The dismantling project, delayed for 15 years, has risen from £1.6 billion to £2.4bn.
The report adds the MoD did not have a fully developed plan to dispose of Vanguard and Astute class subs currently in service, or its future Dreadnought class vessels.
Mr Chapman, a member of the influential Commons Public Accounts Committee, said the report shone a light on an issue he had been raising for some time.
Working with the Labour MP for Devonport, Luke Pollard, he has urged the government to deliver a properly funded programme to recycle these submarines.
Having asked the Prime Minister to expand a civil nuclear clean up budget to cover submarines, he said this would not only deal with a long standing problem, but would create jobs.
"Submarine recycling should be seen as a new economic opportunity to spread out expertise and intellectual property around the globe – we must grab it with both hands."
Committee chairwoman, Labour MP Meg Hillier, added: "The ministry needs to get a grip urgently before we run out of space to store and maintain submarines and we damage our reputation as a responsible nuclear power."
A MOD spokesperson said: "The disposal of nuclear submarines is a complex and challenging undertaking.
"We remain committed to the safe, secure and cost-effective defuelling and dismantling of all decommissioned nuclear submarines as soon as practically possible."