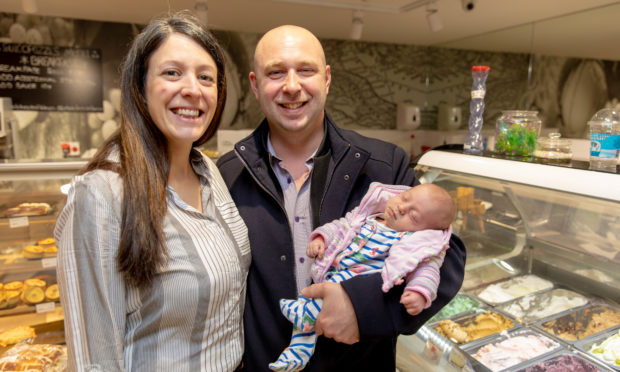 A Kinross-shire ice cream parlour owner kept cool when he ended up delivering his baby daughter at home in Milnathort.
Franck Casonato, 35, helped baby Francesca arrive safely into the world after his wife Joanna's labour happened quicker than expected.
The couple, who own Giacopazzi's, had made sure the car had a full tank of petrol and prepared hospital bags, but Francesca had other ideas and arrived before they could leave for the hospital.
Joanna, 34, described how Franck used shoelaces to tie the cord after Francesca was born three weeks ago.
"I thought I had ages to go," said Joanna.
"My first labour was fairly quick but not nearly this quick.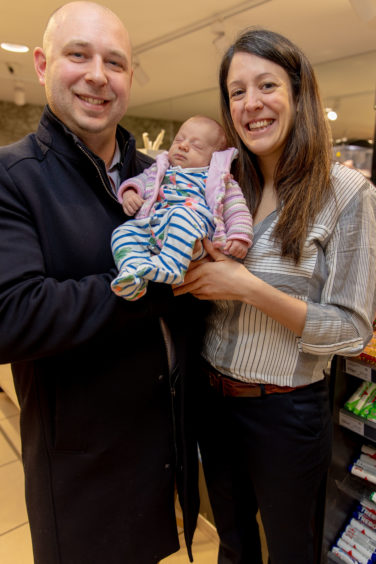 "My contractions started during the night but I didn't want to wake anybody up or bother them.
"I phoned my mum at 7am to tell her to come up by 8am, but by 7.30am I could feel a head."
They phoned for an ambulance and the call handler talked Franck through the birth.
"He was amazing," said Joanna.
"He went to get towels and everything and was just trying to stay calm.
"He caught the baby when she arrived and popped her on top of me.
"She was crying straight away. We cuddled up and had skin to skin while we waited for the ambulance."
She added: "On the phone they said to get towels and shoelaces. Fortunately we found clean shoelaces that had not been used so he tied that around the cord.
"We waited 15 minutes then tied the shoelaces and the cord was cut when the paramedics arrived."
Joanna and Francesca, who arrived weighing a healthy 6lb 11oz, were taken to hospital later that day and ended up staying overnight.
Francesca's arrival means the couple's other daughter Anita, 2, has a little sister.
During the birth, Anita was calmly in front of the television watching Mr Tumble.
The couple run Giacopazzi's outlets in Milnathort and Kinross.
Joanna said when Anita arrived they were so busy running the business they forgot to top up the car with petrol.
"I was really organised this time," she said.
"I had my hospital bag all packed and topped up the car with petrol.
"When Anita arrived there was so much going on. We had to go to get petrol while I was having contractions. We didn't want to have to do that again.
"I was really organised, it was just Francesca was more organised."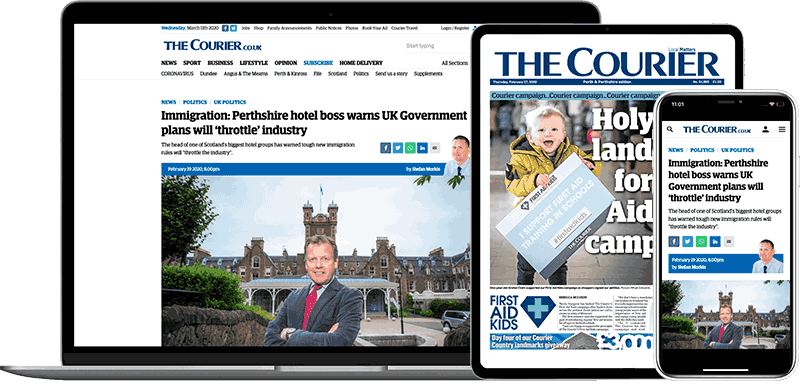 Help support quality local journalism … become a digital subscriber to The Courier
For as little as £5.99 a month you can access all of our content, including Premium articles.
Subscribe