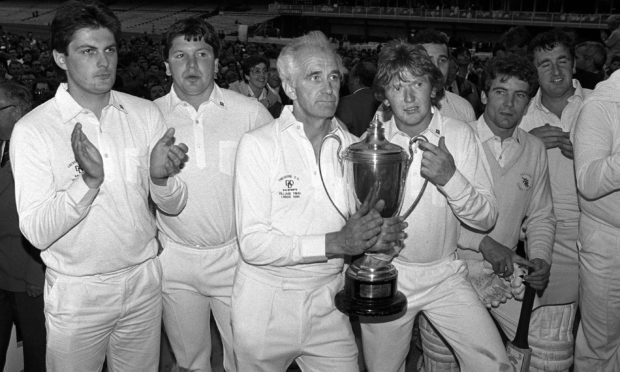 It was one of the most incredible successes in Scottish sporting history.
And now plans are progressing for a film about how Freuchie's cricketers triumphed at Lord's in the National Village Cup in 1985.
The unprecedented victory captured the imagination of Scots throughout the world and catapulted the Fife club and their 48-year-old captain Dave Christie into the spotlight.
Freuchie didn't just take the home of cricket by storm, they took almost their entire village down with them to London for the biggest occasion in their history.
The new film, currently called All Out, is the brainchild of Scottish actor-producer, Sandy Batchelor (The Rise of the Krays, Ordeal by Innocence), and producer-director, Tom Sands (The Holly Kane Experiment).
The pair have already collaborated – with Mr Batchelor in front of the camera and Mr Sands behind it – on Rupert, Rupert & Rupert, a bittersweet comedy-drama about an actor struggling with multiple personality disorder.
Mr Sands said: "Sandy is an incredibly dedicated actor and the depth he brought to not just one, but effectively three characters in a single film was a joy to direct."
Mr Batchelor added: "It's a story that has been told for as long as I can remember, round dinner tables, parties, at any opportunity.
"My grandma lived in Freuchie and I had aunts and uncles that experienced the story first-hand, so it is something very personal to me.
"The story has all the makings of a classic British underdog tale like Billy Elliot and Brassed Off with the Scottish humour of a film like Local Hero."
As the prelude to starting work on the Freuchie project, the duo have joined forces with Press and Journal writer Neil Drysdale, the author of Dad's Army, which chronicled the exploits of the Fife club on their historic journey to London.
Mr Drysdale said: "I am thrilled that this story is being brought to the big screen. I loved meeting and talking to all the Freuchie players while writing the book and it is one of the most uplifting tales you can imagine.
"Nobody gave the Scots a prayer when 639 teams set off at the beginning of the competition, but the winners were the lads who were piped through the Grace Gates."
Mr Christie, 82, who still lives in the Fife community, added: "It was unforgettable for all kinds of different reasons and I am sure modern audiences will enjoy being reminded of what was a remarkable summer for the club."
The current president, Robbie Birrell, has also backed the plans for the film.
He said: "The lads who made history at Lord's will always be legends, but this will maybe encourage youngsters in the village to take up the game and, who knows, maybe steer us to Lord's again in the future."