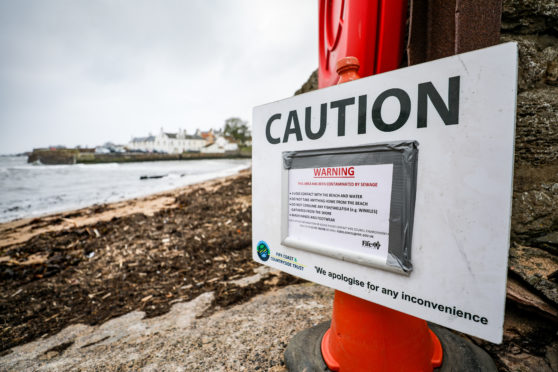 The beach at Anstruther was closed to the public at the start of the Easter weekend as Scottish Water worked to contain a sewage spill.
It was the second time in the space of a week that access to the East Neuk beauty spot was restricted because of contamination.
On Monday, people were told to stay away from the shore near Castle Street and Shore Street after human waste leaked on to the beach as a result of a private sewer being blocked by wet wipes.
The beach was reopened again on Wednesday, but on Friday afternoon Fife Council confirmed the problem had resurfaced.
Linda Turner, service manager for environmental health at the council, said: "Unfortunately, environmental health have had to take the decision, as a precaution, to again close the beach at Anstruther.
"The closure is in the vicinity of Castle Street and Shore Street.
"Investigations are ongoing to find a permanent solution to this drainage problem, and we will continue to work with partnership agencies and landowners to achieve this.
"Scottish Water are in attendance and will be carrying out some essential remedial works, as quickly as possible."
The incident has involved a response from NHS Fife Public Health, Fife Coast and Countryside Trust, the Scottish Environment Protection Agency, Food Standards Scotland and Health Protection Scotland, in addition to Scottish Water and the council.
Signs were put up advising people to avoid contact with the beach and water, not to eat fish or shellfish from the shore and to wash hands and footwear.
On Friday, Scottish Water could not confirm when the beach would reopen and members of the public were advised to check Fife Council's social media pages for updates.
East Neuk and Landward Conservative councillor Linda Holt said: "It's extremely disappointing to learn that the problems at Anstruther beach have not been sorted out so it is at risk of being closed over the Easter weekend when visitors will be flocking to the harbour and beach to enjoy its delights.
"I welcome the multi-agency approach and I hope a full report will be brought to the area committee in due course about Anstruther's drainage and sewer infrastructure.
"It is a perennial problem, and as business grows in the town, and extreme weather events increase, we need to make sure our infrastructure can cope."