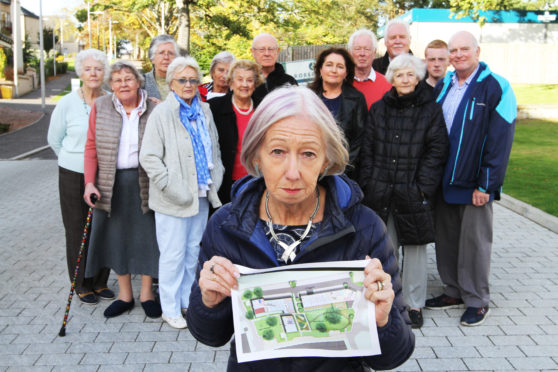 Plans for a new hotel and student accommodation in the heart of St Andrews have been slammed as a "design development based on avarice", according to a new study.
Campaigners opposed to the blueprint for the Abbey Park project have commissioned a report on the proposals that has concluded the development will be "completely insensitive to the conservation area".
They also note Austin-Smith: Lord, the architectural and conservation consultants who prepared the report, were actually employed by prospective developers Robertson Homes to set the design standards which guided the entire redevelopment of the brownfield site, now known as Abbey Park, when it was approved in 2007.
Sandra Stewart, communications officer of the Abbey Park Residents Action Group, said: "This is surely a game-changer for Fife Council in their consideration of this much-criticised planning application.
"Austin-Smith: Lord are a highly prestigious architectural and conservation firm, but what makes their verdict doubly important is that they actually drew up the design parameters for the Abbey park site when the developer received original planning permission.
"If the firm which achieved the successful delivery of the Strategic Development Framework for the whole St Leonards site is now saying that 'economic gain has overridden sensible and intelligent responses to the site's requirements and constraints' then surely this application is holed below the water line?"
The newly-commissioned report criticises the proposed hotel and halls of residence as "bland and immature" and describes it as "characterless". At four storeys high, it will dominate visual amenity, it adds.
It also suggests the application represents over-development of the site in the conservation area and further points out access issues have not been resolved.
The fiercest criticism has been reserved for Fife Council planners who, according to information received by AFRAG under Freedom of Information, had "encouraged that the architecture should not replicate the surrounding buildings", despite the council's own guidance noting the "historicist approach had provided real quality to the current St Leonards site".
A spokesperson said Fife Council could not comment before the application is considered by a meeting of North East Fife planning committee, likely to be held on May 29.
Katherine MacKintosh, managing director of Robertson Property, said: "The delivery of new student accommodation and a new hotel is the final piece in the jigsaw for the housing led redevelopment of the Abbey Park site.
"We have had positive dialogue throughout the planning process with Fife Council and have diligently fulfilled our obligations under the Strategic Development Framework and FIFEplan. We have also openly engaged with the near neighbours and the wider local community.
"Following the pre-application consultation in October 2017, the proposed scheme was amended to take account of residents' views  including the relocation of the student accommodation and introduction of a large public space between the proposed buildings and Orchard Row together with enhanced landscaping.
"We await the determination of the planning application in early course."