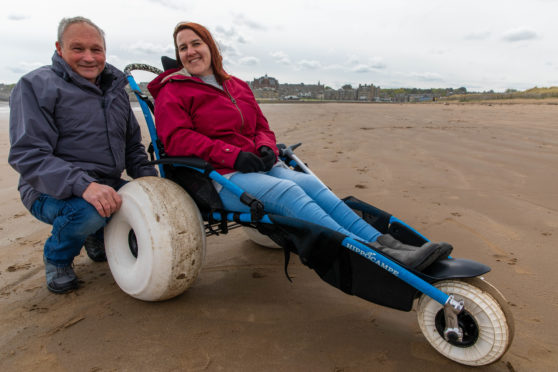 A family walk on the beach is one of life's simplest pleasures but is impossible for many.
Since being diagnosed with multiple sclerosis (MS) seven years ago, Amy Newton is counted among those and her wheelchair cannot be pushed on sand either.
However, she says her life has been changed by the introduction of beach wheelchairs in Fife, allowing her to enjoy days out again.
A joint initiative between Tourism St Andrews and local charity the Hamish Foundation, the specially-adapted chairs have large wheels and come in various sizes to be used by both children and adults.
Since being one of the first to try them at the St Andrews beach wheelchair launch a year ago, mother-of-two Amy has become one of the most regular users.
The 42-year-old said the chairs have given back a freedom she had lost since her diagnosis in 2011.
"As a parent one of the best things you can do with your child is take them to the beach on a nice day, there is nothing lovelier but when you can't get on to the beach that is taken away.
"You don't realise what you take for granted until you can't do it anymore. It's simple things like walking on a beach or getting yourself dressed that you assume you will always be able to do and it's very hard when you realise you can't.
"The first time I used one of the wheelchairs it just felt like freedom.
"So much is taken away from you when you have MS or other disabilities so when one of those things is given back it's just brilliant, there aren't words to describe how good it feels. It sounds childlike but it's sheer joy and glee, it's life-changing."
The beach wheelchairs were launched on June 3 last year, in line with the annual Chariots of Fire run. Costing at least £4,000 each, depending on the model, they were paid for through fundraising, donations and grants, including from Fife MS Society, which Amy coordinates.
They are just part of a masterplan to make the beach and wider St Andrews area fully accessible.
Parts of the popular West Sands are hidden from the promenade by high dunes and plans are afoot to install a viewing platform and walkway to allow people who cannot walk on sand to enjoy the scenery.
Later this year work will begin on a £250,000 refurbishment of the Bruce Embankment toilet block to make it fully accessible, including changing facilities and a hoist for adults.
Tourism St Andrews, one of the driving forces behind the bid to make the town more disability-friendly, says common problems which put people with disabilities off visiting a town can range from no accessible toilets, to too few dropped kerbs and narrow streets.
Chairwoman Debbie McCallum said: "We have identified a range of needs in the town and we are trying to tick them off one by one.
"St Andrews is an amazing place, how can we not allow everyone to have access to it?
"Accessible tourism is a massive business. If you can provide the right facilities people will come because it might be the first time they've been able to go on holiday for years and it makes them feel welcome.
"We are trying to encourage businesses to think more about it. There is so much to do but we have to start somewhere and take it one step at a time.
"The beach wheelchairs have been a catalyst for turning the area into a real accessible tourism destination.
"It's just about thinking about how we can help people with various disabilities enjoy our town and sometimes it's the simplest things like not only having a disabled toilet but making sure it isn't hidden behind a heavy door."
Often restaurants, hotels and tourist attractions have all the necessary facilities but do not advertise them, which can put off disabled customers, to whom advance planning is essential.
"Unless you are put in a difficult access situation yourself you don't realise how hard it is.
"It's almost discriminatory that an entire section of society are cut off from doing things in St Andrews. There is a huge spectrum of disability and sometimes it's as simple as being older.
"It's not only just having the facilities it's letting people know you have them. I wouldn't book a hotel or something if I didn't know it was definitely fully accessible. Sometimes they are and they just don't advertise it and they will be losing potential customers."
There are six beach wheelchairs available to rent in St Andrews. They are free and available on Tuesdays, Thursdays, Saturdays and Sundays but must be booked in advance at hamishfoundation.co.uk/beach-wheelchairs/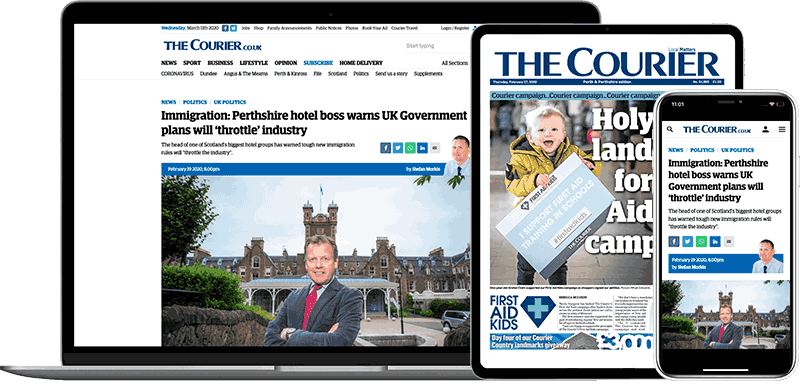 Help support quality local journalism … become a digital subscriber to The Courier
For as little as £5.99 a month you can access all of our content, including Premium articles.
Subscribe