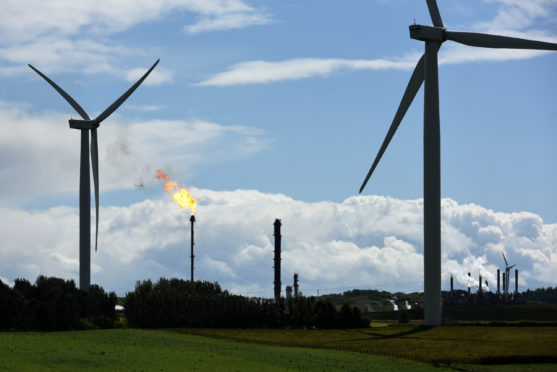 Pond-dipping trips for schoolchildren at Mossmorran gas plant could stop after a charity announced it would no longer work with site owner ExxonMobil.
More than 20,000 youngsters have enjoyed learning about nature at a wildlife pond at the Cowdenbeath site, which is rich with frogs, newts, insects and aquatic plants.
But Kinghorn-based charity the Ecology Centre, which provides tutors for the sessions, has announced it plans to "terminate this relationship" with ExxonMobil after campaigners branded the excursions a "dangerous PR stunt."
A spokesperson for the charity said: "The Ecology Centre is led by a voluntary committee that meets every six weeks. The committee has been reviewing the centre's position regarding this work and have discussed our relationship with ExxonMobil, as we do with all our funders and donors as part of our annual review process.
"The committee has already agreed to terminate this relationship in principle and this decision will be formalised by due process at the next committee meeting, which is scheduled to take place on June 6."
Campaigners have argued the Fife Ethylene Plant, listed by the Health and Safety Executive as a Control of Major Accident Hazards site, is unsuitable for school trips.
Our very own Michael North, a Process Specialist, was on hand to welcome his son Harris and fellow pupils of Bellyeoman Primary to explore science and nature at our environmental pond. Harris is one of over 20k local pupils who have enjoyed a visit ?? pic.twitter.com/VUaPhFQOIE

— exxonmobil_fep (@exxonmobil_fep) June 3, 2019
James Glen, of Mossmorran Action Group, said: "According to HSE, access to the site is strictly controlled.
"This rule does not appear to apply for local primary school children who are being ferried to the plant for pond-dipping, which is in reality a shameless PR exercise by ExxonMobil.
"It beggars belief that parents aren't fully informed of all the potential major accidents and risks facing their children when they attend these workshops at what is a highly toxic and potentially very dangerous site."
He said ExxonMobil's record as Scotland's third biggest polluter was at odds with the mission of the Ecology Centre.
We are half way through our 2019 #STEM education programme and already over 400 local primary pupils have enjoyed a visit to the @exxonmobil_fep environmental pond. Our latest budding scientists were from P3 @HillofBeathPS #SolveItWithSTEM pic.twitter.com/H65t7EVaaJ

— exxonmobil_fep (@exxonmobil_fep) May 24, 2019
He added: "Fife Council recently condemned Mossmorran for the unacceptable impacts of flaring on local people and called for compensation from the operators.
"Yet it is happy to collude with ExxonMobil and see Fife schoolchildren exploited in its risky PR stunts."
East Neuk and Landward Conservative councillor Linda Holt has asked the council's education director to review the policy of sending schoolchildren to Mossmorran.
Carrie Lindsay, council education and children's services director, said: "Our schools take part in a huge variety of outings every year, often using the buildings, organisations and facilities in the immediate vicinity.
"This helps give the children a knowledge and awareness of their surroundings and also helps build better relationships within their local communities.
"Every school trip is assessed using appropriate risk assessment criteria and is designed to support the curriculum," she added.
Stuart Neill, ExxonMobil Chemical external affairs manager, said: "We have quietly supported the education of local pupils for more than 30 years, including more than 20,000 who have enjoyed visits to our environmental pond.
"We are proud to have helped so many to explore science and nature, and would be disappointed to see others deprived of that opportunity.
"Our facility operates to the highest international safety standards, and we are open to meeting to discuss those facts with interested parties."