A real-life Harry Potter has excelled for Scotland on the international quidditch field.
The team game — based on JK Rowling's fictional contest — has become a competitive sport in its own right and is now played by thousands of players across the world.
Twenty countries were represented at the International Quidditch Association (IQA) European Games in Bamberg, Germany, last week, and Team Scotland finished 14th following several days of closely-fought competition.
Heading the national side's ranks was Tev Wallace, 21, who is currently studying statistics at St Andrews University.
He captained the Scottish side and said he was proud of the country's showing at the sport's seminal European event.
Tev said quidditch had changed his life for the better.
"I came to university young and fresh, not at all sporty, but there was an event going on during freshers week so I went along, tried it, and kept going along," he said.
"The more I played it, the more I got into it, and then you think: 'Oh, I'm actually really enjoying this'.
"I now take it very seriously as a sport and when I'm not studying, I'm training and playing quidditch."
Faculty member Guillermo Parra, who has recently left St Andrews University, joined Tev in the Scotland squad.
France defeated Belgium in the final by 150 points to 120, but the Scots were happy with their 14th place, which included a convincing victory over Switzerland on the way.
Tev said: "It was a fantastic experience – I've never been to an international tournament before but it was amazing.
"The amount of knowledge I've gained is absolutely ridiculous and we'll be back in two years' time and we'll be so much stronger."
Scotland will not feature in the World Cup in the United States next year, with a UK team set to represent the home nations. However, Tev and the rest of the squad are hopeful of returning to the IQA European Games in 2021.
How do you play quidditch?
The ultimate goal is to have more points than the other team by the time the snitch, a tennis ball inside a long sock hanging from the shorts of an impartial official dressed in yellow, is caught.
Rules of the sport are governed by the International Quidditch Association, or the IQA, and events are sanctioned by either the IQA or that nation's governing body.
To score points, chasers or keepers must get the quaffle, a slightly deflated volleyball, into one of three of the opposing hoops which scores the team 10 points.
To impede the quaffle from advancing down the pitch, chasers and keepers are able to tackle opposing chasers and keepers at the same time as beaters using their bludgers—dodgeballs—to take out opposing players.
Once a player is hit by an opposing bludger, that player must dismount their broom, drop any ball being held, and return to and touch their hoops before being allowed back into play.
The game ends when the snitch is caught by one of the seekers, awarding that team 30 points.
A team consists of a minimum of seven (maximum 21) players, of which six are always on the pitch, those being the three chasers, one keeper, and two beaters.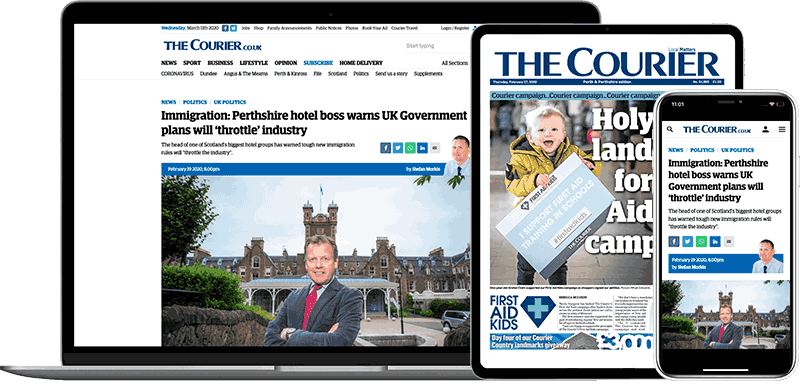 Help support quality local journalism … become a digital subscriber to The Courier
For as little as £5.99 a month you can access all of our content, including Premium articles.
Subscribe