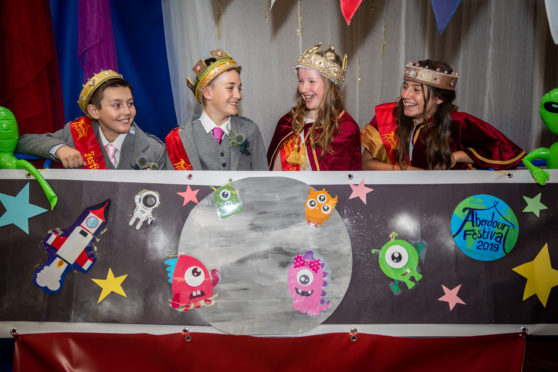 Fife communities made the best of soggy weather at the weekend as summer events continued across the region.
Aberdour Festival organisers were forced to cancel the traditional parade after a downpour was forecast for Saturday morning.
But events still went ahead, with the crowning of the royal party moved to Aberdour Primary School.
And because the village sports day had to be postponed because of the weather, an indoor royal party including music and games was arranged at the last minute.
Conditions cleared up by evening, allowing families to enjoy a ceilidh at Aberdour Castle.
Sunday saw the annual Donkey Brae Run set off from the village and the market day take place at Silversands park.
Along the coast, Buckhaven and Denbeath Gala went ahead on Saturday, with youngsters bringing a bit of colour to a dreich day by turning up in fancy dress.
It was the first time Buckhaven and Denbeath Gala had been held since 2005 and its return was thanks to the hard work of the committee, who spent two years fundraising to resurrect the event.
When the gala was held in the past, a fisher lad and lass were crowned, and this year saw the tradition brought back with local youngsters Zane Adamson and Katelyn McKell chosen for the roles.
It is hoped the gala, which included Highland dancing and stalls, will become an annual event once more.
Jane Brown from the gala committee said fundraising events had already been planned to ensure the event goes ahead next year.
"We're determined to make it an annual event because this is what Buckhaven is needing, something in the community for everybody because we don't really have anything here," she said.
Anybody interested in joining the committee or helping to raise funds for the gala can get in touch with organisers through the Buckhaven and Denbeath Children's Gala Group Facebook page.
Ms Brown added that making this year's event a reality was a "massive achievement".
She said: "It went really well considering the weather, which wasn't in our favour. There was a good turnout and everybody seemed to enjoy themselves."
Elsewhere in Fife, local bands took to the stage for Silverburn Festival at Silverburn Park in Leven.