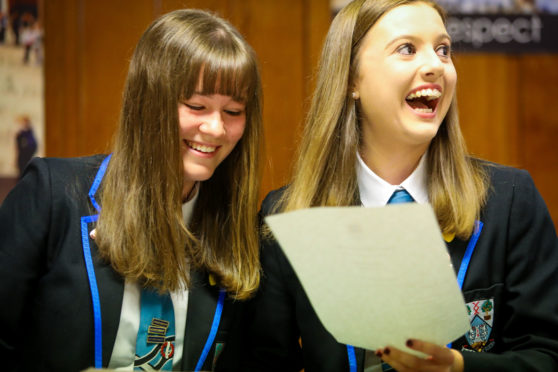 The agonising wait is over for thousands of school pupils across Tayside and Fife.
While there was joy for many, those who did not get the grades they wanted have been urged not to panic as support is available.
Among those celebrating is 18-year-old Dundee student Elias Aoubala, who ripped open his envelope from the SQA to find he had achieved four As for advanced highers in maths, biology, chemistry and physics.
Elias, a pupil a Monifieth High, hopes the result will be enough to seal his conditional offer to study engineering at Glasgow University.
"Reading the first page of the exam results, the nerves were building up," he said.
"When I go to the next page with the results I had to reread it and reread it to check it was actually right."
Another Dundee success story was fifth year Grove Academy pupil Lucy Philips, who was overjoyed to find she had been awarded five As for her highers.
"I am so relieved. It's a weight off my shoulders," she said.
At Dundee High School, the pass rate was 91.8%. Rector John Halliday said he was delighted by the results.
Stewart Hunter, convener for Dundee's children and families service, said: "Staff are available in secondary schools this week to give young people and their families advice and support and to discuss their possible options."
Some pupils at Woodmill High in Dunfermline turned up early to receive their envelopes from rector Sandy McIntosh, and many achieved top grades.
Straight-A student Kaiya Garrioch, 17, is now hoping to study management and computing science at St Andrews University having aced her highers.
Her mother Susan said: "I'm very proud. She's put a lot of hard work in. She deserves it."
Ethan James, 15, also scored top marks in his National 5 exams.
"I feel like I studied well and deserved the grades I got but I'm dreading highers because apparently that's harder," he said.
Mr McIntosh gave some reassurance to those who had not achieved the grades they wanted.
"There are always options open to you, so don't panic if your results weren't quite what you wanted," he said.
"There's always more than one way to get to where you want to be.
"Just make sure you talk to someone and get advice on what options are there for you."
It was a record-breaking results day for St John's Academy in Perth, with the school matching last year's best ever S4 achievement rate and twice as many S5 pupils achieving five highers than in 2018.
Headteacher Sean Hagney said: "I want to congratulate the young people, parents, teachers and support staff who have worked hard all year.
"We have seen a remarakable improvement in the young people's results over the past few years.
"Nearly half of our S4s achieved five National 5s and almost a quarter of our S5s achieved five highers, with 67% achieving at least one."
Amongst the jubilant pupils was Ellie Clark from Crieff, who has been awarded a place at Loughborough University.
The sport and management student-in-waiting said: "I had a really mixed morning. I got my results at 8am and didn't meet my conditions but then I found out I had got in at 9am."
In Angus, twins Kerr and Melissa Lumsden each achieved six As in their National 5s.
The Monifieth High pupils confessed they were quite competitive and Kerr said: "I was really happy and wasn't expecting all As."
Melissa added: "I was happy to get all As as I thought I might get some Bs.
"I didn't really believe it when I got the email.
"I needed to see the physical certificate when it came through the mail for it to sink in."
Lucy Austin, 16, who came out of her physics exam in tears, was also surprised to gain five As.
"I was so worried," she said.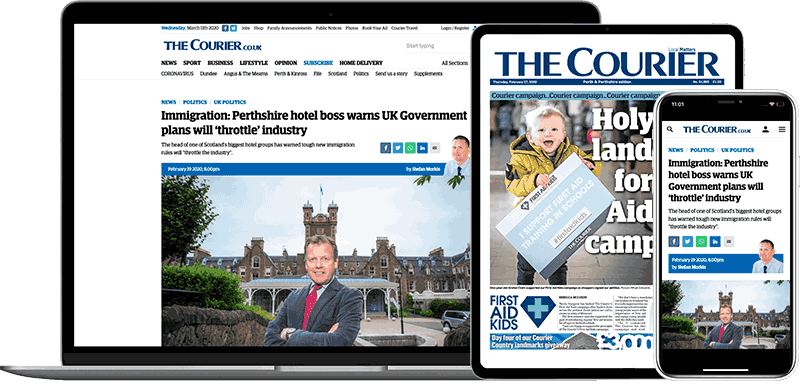 Help support quality local journalism … become a digital subscriber to The Courier
For as little as £5.99 a month you can access all of our content, including Premium articles.
Subscribe