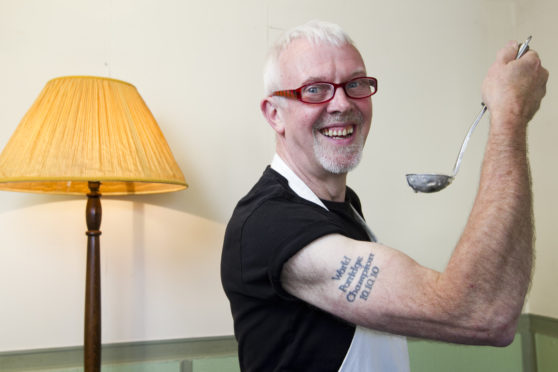 A former porridge champion from Fife is vying to regain the cherished Golden Spurtle this weekend.
Neal Robertson, 62, cooked his way to victory in the 2010 World Porridge Making Championship and is hoping to reclaim the title at this year's contest, taking place in Carrbridge on Saturday.
The Auchtermuchty resident was so proud of his achievement in 2010, he had the words "World Porridge Champion 10.10.10" tattooed on his right arm.
"It was great to win it," he said.
"I first entered in 2009 and have been hooked ever since."
Neal, who used to own the Tannochbrae Tearoom, currently works night shifts at Amazon's Dunfermline distribution centre.
He said his daily morning bowl of porridge was all he needed to prepare him for the competition.
"I have porridge every morning. It's a routine," he said.
"When I'm working nights at Amazon, I have porridge when I get home in the morning."
Neal has even engineered a special spoon for stirring the traditional Scottish dish.
His patented "spon" is double backed, which prevents sticky oats from clogging the utensil.
And oats aren't his only foodie passion. He also runs the Auchtermuchty International Potato Festival in his spare time.
After lifting the Golden Spurtle in 2010, Neal won the speciality section, in which oatmeal can be combined with any ingredients, the following year.
Contenders in the main competition for traditional porridge must follow strict rules. No rolled oats are allowed and only untreated oatmeal is permitted. The only other ingredients to be used are water and salt.
Last year, Per Carlsson and Calle Myrsell from Sweden shared the title. It was the second year running the crown had gone to Sweden.
They will be returning this year to compete against entrants from Scotland, England, Wales, Germany, Russia, Ireland, Norway, France, Poland, Belgium and Canada.
The current speciality winner is Chris Young, owner of Perthshire Oatcakes, who last year wowed the judges with his Scottish tapas platter.
New this year is a Silver Spurtle award for best junior porridge maker, open to young cooks aged eight to 16.