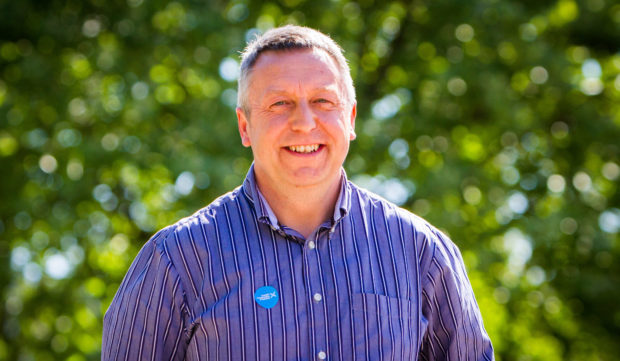 A Perth and Kinross councillor was accused of calling his constituents lazy and lacking understanding as a row over a social media poll made its way into council chambers.
Conservative councillor Angus Forbes, convener of the environment and infrastructure committee, ran the poll last month asking why people thought too much recycling still went into the wrong bin, giving two options as an answer, "Lack of understanding" and "Laziness".
The poll read: "Perth and Kinross are really good at recycling but still too much goes in the wrong bin, why do you think that is?"
Laziness won the poll with 75% of the vote.
At a meeting of the committee on Wednesday, the first since the poll was made, SNP councillor Grant Laing told the convener he thought the poll was "totally unacceptable" during a report on waste management.
The accusation came on the same day Mr Forbes was announced as the Conservative candidate for Perth and North Perthshire for the upcoming General Election, a seat currently held by long-serving SNP MP Pete Wishart.
Mr Laing said: "Everyone here will agree that this has been a very complicated issue and I was disgusted to see the poll you put on twitter only giving two options and the two options, as convener of the service, was lack of understanding or laziness.
"I think that's completely unacceptable. You should be looking at ways to improve the service rather than insinuating that people are either lazy or lack understanding.
"You shouldn't ask that on twitter. There's many other aspects.
"Do you agree that it was a very limited poll to put out on twitter?"
Mr Forbes defended his position, saying it was a poll for a specific set of circumstances.
He said: "That was a very specific question about a very specific meeting at a community council.
"The poll was put out as a local councillor and not as convener so I'm not going to comment any more on it."
The waste management report progress report before committee showed that household recycling and composting rate in Perth and Kinross was 51.7% for 2018,  higher than the Scottish national average of 44.7%.
The local authority also has the 14th highest recycling rate in Scotland.
However both these statics were a drop on the previous year with the council's  household recycling and composting rate at 55.6% for 2017 leaving Perth and Kinross Council with the eighth highest recycling rate in the country.
---

---
​