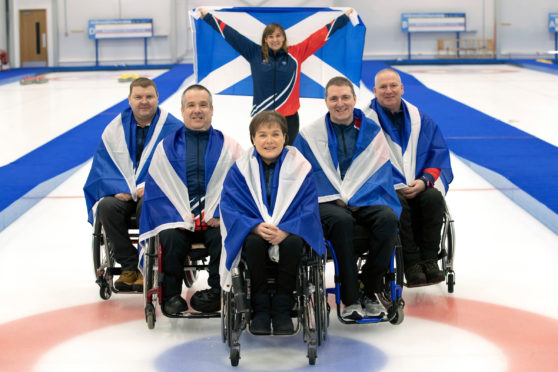 A Perth woman who led Scotland's wheelchair curling team to silver at a world contest is now a finalist for a UK Coaching Award.
Sheila Swan was shortlisted for the High Performance Coach of the Year Award after the Scottish team placed second in the World Wheelchair Curling Championship earlier this year.
The other finalist from Perth and Kinross is the Care About Walking project, which aims to improve the lives of older people in the area.
It was shortlisted for the Coaching for an Active Life Award.
Ms Swan's coaching expertise and experience is shared with wheelchair curlers of all levels, ages and stages.
On her award nomination, she said: "It was a big surprise, especially when you see the calibre of the other coaches.
"It is more about the recognition for the team. It's as much for the team as it is for me."
She added: "Winning medals is obviously important as it demonstrates that we have helped athletes achieve their potential, but our wheelchair programme has been so much more than that.
"It has been truly life-changing for some and has helped to create a very real lasting legacy."
Wheelchair curling is a Paralympic sport, with many similarities to its Olympic counterpart. The major difference is that sweeping is not permitted.
Perth and Kinross' Care About Walking project has made a more local impact in its work with older people.
It increases the provision of walking, strength and balance exercises within care homes.
Over the past year, it has worked with 250 staff and residents.
Manager of Paths for All, Frances Bain, who is heavily involved with Care About Walking spoke of the group's response to being in the running for the award.
She said: "The team is delighted at being chosen as a finalist for this prestigious award.
"While not necessarily a traditional 'coaching' project in terms of the sporting world, it's great to have the work we are doing to empower, facilitate and support care homes to deliver physical activity opportunities recognised."
The UK Coaching Awards will be held on December 5 in London.