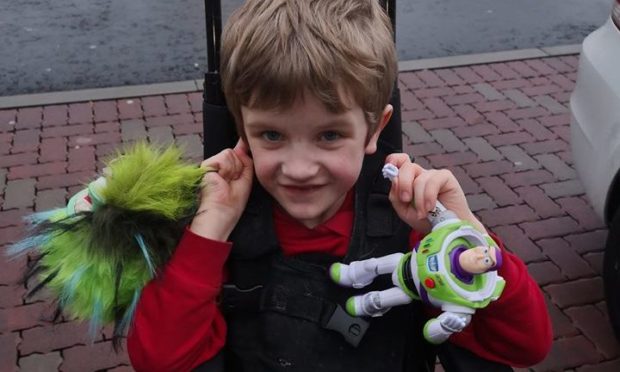 NHS Tayside has apologised to the family of a little autistic boy after a member of staff mistakely took away his "lifeline" wheelchair, leaving him stranded at home.
Kade Logan's mum phoned the police when she discovered her son's specially-adapted chair had vanished from her home in Invergowrie.
Believing the chair had been stolen by youths who took it for a joyride, Kassi-Lee made an emotional plea for its return on in the pages of The Courier and on social media.
Residents hunted through the village, expecting to find the seven-year-old's wheelchair dumped in a ditch.
After nearly a full week of searching, NHS Tayside has revealed a "mix-up" had led to the chair being taken away by a member of staff.
A worker from the Ninewells' Tort Centre – a specialist wheelchair clinic –  had been tasked with collecting Kade's old wheelchair from his school but went to his home address instead and saw the brand-new chair parked in a communal close.
On Friday morning, Kassi-Lee received a phone call from the clinic to say the chair had been found in storage and would be brought to the family home as soon as possible.
By way of apology, Kade has been invited to help switch on Ninewells Hospital's Christmas lights.
Kassi-Lee said: "I'm just a bit flabbergasted by everything that's happened.
"Obviously I'm delighted to get the chair back, untouched. And I'm really pleased to find out it wasn't actually stolen.
"But I'm baffled by how this was allowed to happen. I was at home all day and whoever picked it up never came to knock on our door and tell us what he was doing.
"I had called the clinic the minute I noticed the chair had disappeared and no one said anything about it having been picked up."
She said: "Kade will love being part of the Christmas lights switch-on and that is a really nice gesture.
"But this has caused a lot of distress for us. Poor Kade wasn't able to go to Dundee to see the Christmas lights, and we were worried he wouldn't have a chair for his eighth birthday on Wednesday."
A NHS Tayside spokeswoman said steps would be taken to prevent similar incidents happening in future. She said: "We are very sorry for this mix-up and apologise to Kade and his family for any disruption and distress this has caused."
She said a member of staff had tried calling Kade's mum before the collection, but could not get through.
"When we were first contacted by Kade's mum to say the chair was missing, we arranged for his old chair – which was in the school – to be returned to him, while we looked into organising a replacement.
"We then discovered that the new chair had accidentally been brought back to Ninewells and got in touch with Kade's mum to let her know."
She added: "By way of a further apology we have invited Kade and his mum to be the guests of honour at our festive event at Ninewells Hospital in December where Kade can meet Santa Claus, join in with some carol singing and press the button to officially switch on our Christmas tree lights.
"We hope this will go some way to making up for missing the Dundee light night.
"To ensure this situation does not happen again, we will be reviewing our procedures and looking at introducing 'calling cards' if nobody is at home when chairs are to be collected or delivered."