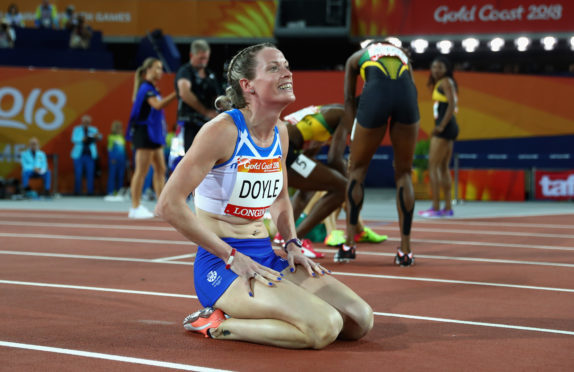 Perthshire runner Eilidh Doyle has said there is too much pressure on athletes over body image.
The Olympic 400m hurdler said competitors are now expected to look a certain way and promote themselves by posting pictures of their body on social media.
She said that can put undue stress on athletes and they can be attacked over the way they look by online trolls.
Doyle, 32, who is expecting her first child with husband Brian in January, said because of the issue, she does not think she would survive in the sport if she was starting out now.
She said: "In athletics everybody has different figures but you are wearing small shorts, you are wearing a crop top, so your figures are on display and it can be difficult.
"Even now I will be in teams with the 4x400m girls and I'm looking at them and some of them have got these completely ripped stomachs and I'm like 'Oh God, I'm going to have to stand in a photograph with them at the end of this'.
"I think it's inevitable that image can play a factor but I think with social media it's very difficult.
"I started my career in 2008 when social media wasn't really a big thing and if I was a 22-year-old starting out now would I stay in the sport? Would I have lasted as long as I have?
"I don't know if I would because things are very different now."
Kinross athlete Eilidh Doyle bags silver medal on Gold Coast
Doyle said she had her sponsorship funding cut when she turned 30 and that sponsors were increasingly only interested in appearance and public profile rather than performance.
On the Scottish Gymnastics podcast, she said: "Before, sponsorship deals and kit deals were all based on your ability.
Plans for city centre mural of Perth athletics ace Eilidh Doyle revealed
"Now it is based on how many followers you've got on Twitter or how good you look in the kit."
Earlier this year, fellow athlete Eilish McColgan, from Dundee, hit out at online trolls who 'body shamed' her over her weight.
The middle distance runner said she has to regularly put up with comments about her being "too skinny".