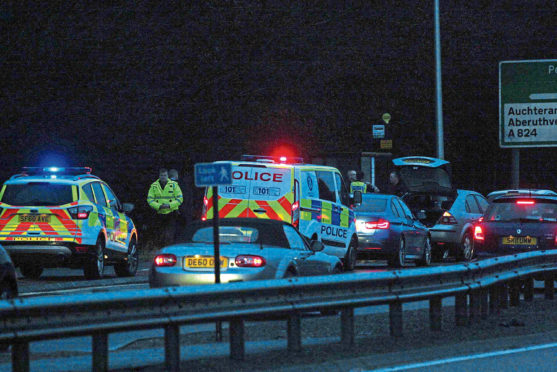 At least eight cars suffered damage and burst tyres in early morning chaos on one of Scotland's busiest roads.
The incident occurred after debris became strewn over the northbound carriageway of the A9 dual carriageway near Auchterarder, Perthshire.
Six cars slewed into the safety of an express bus-stop – the only refuge on the high-speed road, which does not have a hard shoulder – while two more limped to the next turn-off after hitting the hazard just north of the Gleneagles junction.
An eyewitness who was cycling past the scene on the way to Gleneagles Station said: "It was chaos. They were all saying they'd seen nothing, then hit something in the dark that took their front tyres out.
"Several were on the phone to the AA or suchlike.
"They all looked shell-shocked.
"One woman was crying. Then the police turned up.
"It was not yet 8am and still almost completely dark. It must have happened about 7.45am."
A spokesman for Police Scotland said: "Police received reports of debris on the A9 at the Auchterarder junction around 8.00am on Wednesday, 27 November.
"A partial road block was put in place while the debris was removed."