Dozens of campervans took over a car park in Pitlochry for several days at New Year resulting in fresh concerns about the lack of facilities for motorhome tourists in Perthshire.
Over 40 vehicles stationed themselves in the Perthshire town from December 29 until after the New Year's Day Street Party celebrations, blocking up the council owned car park.
The number of campervan tourists has increased rapidly in Perthshire over the last 12 months with councillors and community councils becoming concerned about the lack of infrastructure currently in place to deal with the influx of visitors.
In 2019 similar problems were witnessed at car parks in Dunkeld and Loch Tay causing access problems for locals and raising health and safety fears over waste.
Mike Williamson, SNP councillor for Highland Perthshire, has been calling for councils to be given the power to introduce localised measures to tackle issues with campervans.
The campaigner said the latest arrivals in Pitlochry highlighted the need for new facilities and feared the large number of motorhomes in close proximity posed a fire risk.
Councillor Williamson said: "The annual New Year's Day street party in Pitlochry is a great boost to the local economy.
"However, the arrival of 40 plus motorhomes to one car park in Pitlochry has highlighted the need that there does not seem to be a clear policy about the use of council car parks for overnight camping along with a need for more investment in the infrastructure to be put into place.
"With many caravan sites closed for winter locally leaving motorhome users no clear idea of where to park or dispose of their waste.
"This has lead to fears about the potential environmental impact this may be having around the edges of the car parks along with the potential health and safety risks."
The Highland Perthshire councillor is concerned that the new Heart 200 tourist route planned for Perthshire will only add to the growing number of caravans parking up in the area.
In October, Dunkeld and Birnam Community Council called for signs to be erected at the town's Rumbling Bridge car park to stop overnight stays after a number of campervans moved in.
Stuar Paton, community council chairman, said: "We've definitely seen an increase in the number of campervans using sites around Dunkeld and a general rise in wild camping as well.
"On the whole it has been well managed but it has become a problem in Dunkeld where it's near houses and beside homes and it becomes intrusive.
"There's also the issue of human waste as a lot of the smaller vans don't have facilities so there is a concern there."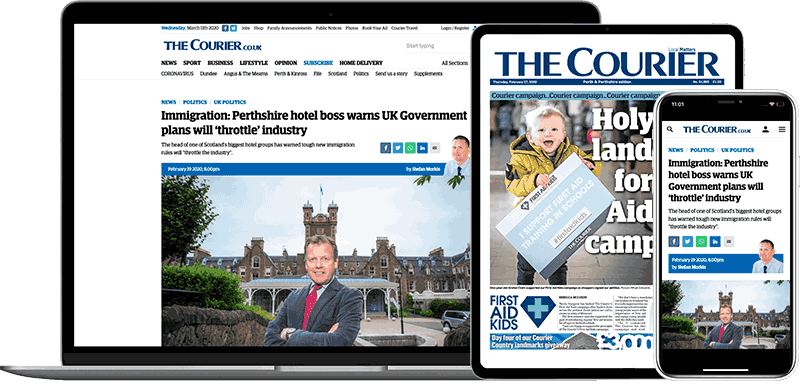 Help support quality local journalism … become a digital subscriber to The Courier
For as little as £5.99 a month you can access all of our content, including Premium articles.
Subscribe