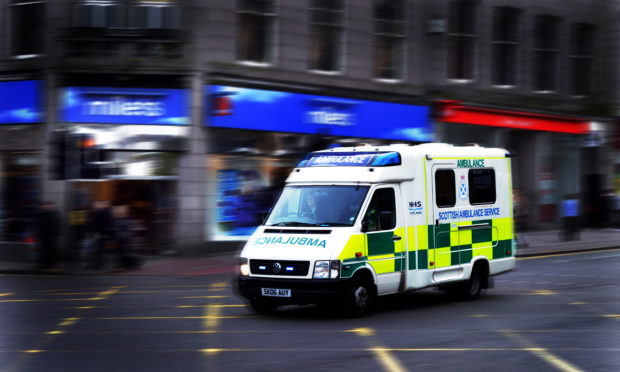 A Perthshire woman has accused the Scottish Ambulance Service of refusing to attend to her three times after she called them in severe pain.
Linsay McRitchie, from Bankfoot, called an ambulance on numerous occasions relating to chronic pain she has been suffering in her abdomen for the past month which remains undiagnosed as she cannot get a hospital appointment.
The 23-year-old says the emergency service refused to come to her aid even after she was told to phone them by her GP and believes there is no support for people who don't have coronavirus.
Linsay said: "I was in so much pain but they said they weren't coming out and I should just phone my GP.
"So I went to my GP. I phoned my doctors and she could hear how much pain I was in in so (told me) to phone an ambulance – but they told me no again.
"The ambulance just wouldn't help. It was three times they refused.
"They just said to keep going to my GP. They said unless I was having a stroke or a heart-attack they couldn't send one out.
"The hospital just really isn't there for people who don't have coronavirus. They keep saying they are there for people but they weren't there for me.
"I was in so much pain I couldn't breath properly and I was crying."
Linsay praised her GP surgery in Dunkeld for the help she has received over the last four weeks but admits she has been left afraid of what is causing the pain as she cannot get any answers until she is admitted to hospital.
She said: "I've been in and out of the doctor's surgery trying different medicine.
"Thankfully the pills they've put me on now are working but it's just masking the pain. It's quite scary as well because I don't know what it is. It's undiagnosed."
The Scottish Ambulance Service say they only have a record of Linsay calling on two occasions but apologised for any distress caused.
A spokesperson for the service said: "Our records show we received two calls for this address in May, both of which were assessed as appropriate for management by a GP, NHS24 or advice from NHS Inform.
"We will be contacting the patient directly to discuss their concerns and apologise for any distress."