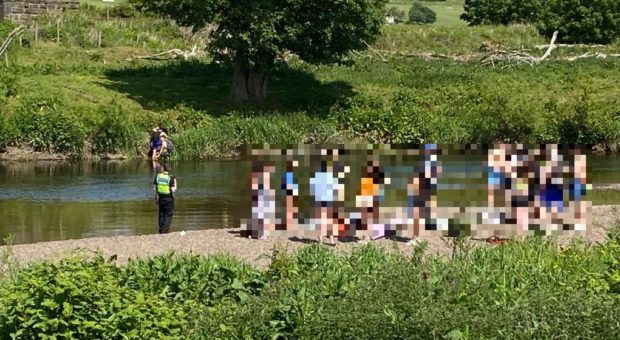 Bosses at a rural Perthshire estate have condemned an illicit gathering of sunseekers who "spooked" pregnant cattle and put their lives at risk.
Police were called to the scenic Dupplin Estate after dozens of youths swarmed to a riverbank near a field of in-calf cows.
The youngsters, in swimsuits and shorts, were seen jumping off a bridge into the water.
The visit sparked fears for cattle that were scared away from the watercourse. There were fears that they could get heatstroke if they couldn't get access to the river for a drink.
There was also concern that the group had walked across trainlines to get to the river.
The Dupplin Estate took to social media to condemn the incident, which happened at about 1pm on Monday.
Sharing an image of the gathering on Facebook, an estate spokeswoman said: "This was the scene on the estate where people were jumping off a bridge into the river in a field of pregnant cattle.
"As a result, the cattle were naturally very spooked."
She said: "This behaviour is wrong and risks the lives of the animals. Please can we remind everyone to respect the countryside, people and animals."
Estate owners asked The Courier not to identify the exact location where the incident took place.
The spokeswoman added: "This was clearly a gathering outwith the guidelines given by the Scottish Government.
"We can now meet up with another household outdoors, in small numbers, but with physical distancing required."
British Transport Police were called to the beauty spot.
A spokesman said: "Officers were called to the area following a report of a large gathering of people.
"Officers attended and gave firm words of advice around the dangers of railway trespass and large gatherings during the current restrictions.
"The group then dispersed from the area."
The incident follows a weekend of lockdown rule-breaking in rural Perthshire, with an influx of campervans around Loch Tummel and rubbish left behind by crowds at Perth's South Inch.