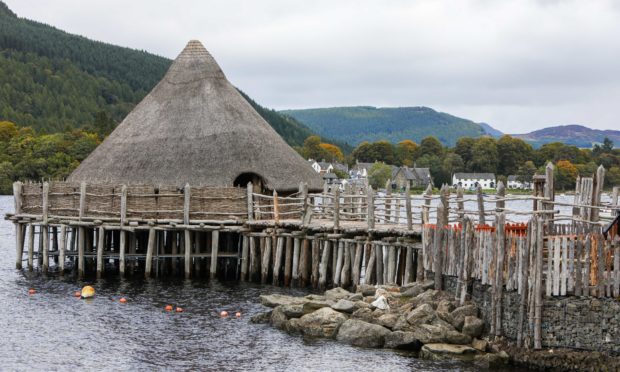 A historic land transfer deal has cleared the way for a £6 million "national treasure" visitor attraction in Highland Perthshire.
Bosses at the Scottish Crannog Centre have secured a site for a floating village of ancient dwellings on the north shore of Loch Tay, as part of a new state-of-the-art museum.
The project is expected to create around 55 jobs and will pump an estimated £2.1 million into the Scottish economy, with around a quarter of that invested locally.
The announcement offers some welcome relief for the region, coming soon after a series of damaging economic blows, including the announcement of job losses at Crieff Hydro, Pitlochry Festival Theatre and the OVO/SSE headquarters in nearby Perth.
Crannog management envisages several loch-side huts on a site known as Dalerb, which is currently a car park and picnic place. The crannogs will be the focal point of a new heritage centre.
The land has been secured as part of Forestry and Land Scotland's community asset transfer scheme.
Managing director Mike Benson said the centre has developed over the past two decades from its origins as part of a research project carried out on Loch Tay by the pioneering underwater archaeologist Dr Nick Dixon OBE.
Mike said: "It is now an internationally recognised and hugely popular attraction. I doubt anyone would have anticipated back then just how successful the museum would become.
"So successful, in fact, that the current site is just too small to cope with the thousands of visitors we get every year."
He said there will be a phased introduction of the masterplan, which local communities will get the chance to help shape and promised the new settlement will retain the spirit of the original crannog by being "intimate, human-sized and immersive."
He said: "Finding a site in the same vicinity was crucial to our plans, setting ourselves upon a path to being a sustainable, special place that is respected, loved and admired, a national treasure with social justice at its heart that, more than anything, matters to the public we are here to serve."
As well as full-time equivalent jobs, a targeted apprentice scheme will be created, as well as opportunities for volunteers and research.
Judith Webb, chairwoman of the Community Asset Transfer Scheme evaluation panel said there was "no hesitation" in recommending a transfer of the four-hectare site.
"This was an unusual, fascinating and robust application for what is clearly an outstanding scheme and exciting project," she said.
"It has every prospect of becoming an international centre of excellent and a five-star attraction that would deliver significant local economic benefits and be of national significance."
Local SNP councillor Mike Williamson welcomed the announcement. "I am so pleased for all those involved with the Crannog Centre, particularly as businesses and attractions are currently facing such uncertainty," he said.
Dr Marco Gilardi, of the University of the West of Scotland, said the expansion would help the centre grow into "a national treasure and a model for modern living museums."