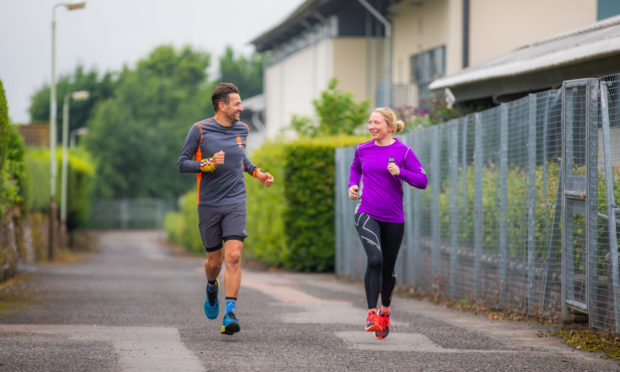 A pandemic will not stop the organisers of Auchterader Running Festival from drawing in competitors from around the world this year.
Race directors Fiona and Steven Watt say they have had entries from as far afield as Australia for September's event, which is being hosted virtually for the first time since its launch in 2017.
In three weeks time, runners from around Perthshire, the UK and the world will take to their own running routes to clock up the distance required to complete the 10k, half marathon or Double Dare – which requires them to take on both in the weekend window.
The virtual starting pistol will be fired on September 10 and runners will have until that Sunday to complete their distance.
Husband and wife team Steven and Fiona have done everything they can to make sure September's event is as similar to last year's as possible.
Socially distanced runners will be timed through an online portal run by the organisers and times will be posted on a digital leaderboard.
Finishers will be sent medals and masks in the post.
Opening and closing ceremonies will be live streamed on social media and competitors will be able to print out bib numbers for the real experience.
The couple have teamed up with sponsors to get hydration gel pouches sent out to competitors on request and will be taking suggestions for a public event playlist as well as producing a podcast for participants.
Steven, who has taken part in two virtual ultra-marathons this summer, said: "It's difficult to train when you don't have that race to look forward to.  It's amazing what that does for a runner.
"We're doing everything we can to emulate that excitement at the start line and the rush of crossing the finish."
Last year, 1,800 entrants booked up for the event, which started at Gleneagles, on the first day of the launch.
Around 500 have already signed up for the virtual event, with the majority of participants taking on the Double Dare.
Fiona said: "We were really adamant not to miss a year.
"It's felt really weird, usually we're organising 100 volunteer marshals and coordinating first aid. This year, it's been different logistics altogether.
"Our emphasis has been to make sure it stays a friendly and familiar event, and that's why we don't put pressure on people to achieve certain times.
"You don't need to stay local. It's a chance for ex-pats or people who moved away from the area to join in with something in Auchterarder too."
Entrants can sign up via the festival's Facebook page.