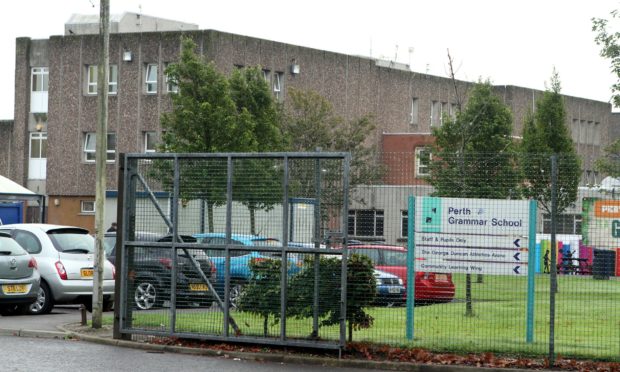 More than 120 staff and pupils are isolating after an outbreak of coronavirus at a Perth secondary school.
Figures released by council chiefs on Thursday reveal 12 pupils and four staff at Perth Grammar have tested positive for the virus in the last 14 days.
The outbreak began on November 6 with a single member of staff. A second employee tested positive the following day.
The first confirmed case involving a pupil happened the next day, November 8. The first wave of 24 students and three staff were sent home to isolate the day after that, when a second child was infected.
Now a total of 124 people have been told to stay home, after being flagged as close contacts of confirmed cases.
The Perth and Kinross Council study shows there are a total of 429 staff and children self-isolating as a result of cases at 14 schools throughout the area.
A total of 50 are at home after two cases at St John's RC Academy, while 46 have been told to isolate as a result of two infections in Blairgowrie High School.
Meanwhile, 46 are isolating at St Madoes School, which has a roll of just over 100.
Other cases have been recorded at Bertha Park, Kinross High, Perth Academy and Perth High, and at primary schools Arngask, Crieff, Dunning and Newhill in Blairgowrie.
The number of people isolating across the region, in connection with schools, has dropped from 445 the week before.
Council leader Murray Lyle said he was hopeful the downward trend will continue.
"Overall the number of cases in Perth and Kinross has gone down – not significantly, but slightly," he said.
"I am particularly aware of the situation at Perth Grammar and I believe that we are now on top of it. I'm confident that situation will resolve itself soon."
He added: "If you look at this week's numbers, you can see that that people who were self-isolating because of earlier cases are now back in circulation, and that has helped bring the numbers down.
"I feel that Perth and Kinross is managing the situation well, in schools and out of school, and tackling each incident as it crops up.
"I would hope to see the numbers decline further next week, and maybe we can go back to level two.
"But, of course, something could come up tomorrow and change everything again. You just never know."
If children are asked to self-isolate, other members of the household – including siblings – don't have to stay home unless they show symptoms.