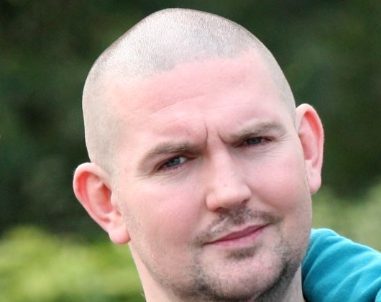 A jailed drug dealer used a trip to a children's hearing to smuggle nearly £800 worth of heroin into a high security prison, a court has heard.
Brendan McGivern from Blairgowrie was serving a sentence at Glenochil Prison, Clackmannanshire, at the time, after pleading guilty last year to battering his girlfriend with a shoe.
The father of five picked up nearly two ounces of heroin that had been hidden in a toilet cubicle at a building in Perth where the Children's Hearing was being held.
McGivern, who was transported from the jail to attend the hearing, had asked to use the loo.
Falkirk Sheriff Court heard that guards who were accompanying him became suspicious that he might have picked something up in the toilet area.
He was searched on his return to Glenochil, and found in possession of four wraps of brown powder, which turned out to be heroin.
Prosecutor Graham McLachlan said the total weight of the drug was 52 grams, which would have had a value of £740 in jail.
He said: "That's predicated on sub-division into 3.5 gram deals."
Two mobile phones and a SIM card were found in his cell.
The incident took place on January 12.
Another mobile had been found in McGivern's cell four and a half months earlier, on September 1 2015, after warders received a tip-off and staged an on-the-spot search.
McGivern, 35, pleaded guilty to possessing three mobile phones and the heroin, the latter with intent to supply, in the jail.
Paul Ralph, defending, said he had been put under pressure in the jail after the loss of the first mobile.
The solicitor said: "He was approached by others after the recovery of the phone, and told that was going to cost money."
Mr Ralph said it was suggested to McGivern that there was a way of paying off the debt.
The drugs were then left at an address and taken to the hearing.
Jailing him for two years and four months, Sheriff Craig Caldwell said he accepted he had been under "some degree of coercion", but he already had a "significant previous conviction" for drug supply.
The sheriff said: "You took part in what was clearly a carefully-planned exercise to introduce a significant amount of class A drugs to the prison, for dissemination and distribution amongst the inmates incarcerated there.
"The extremely adverse effects of the use of drugs in prison are well known.
"The courts will support the criminal justice authorities and agencies to deter that sort of activity again."
Last year McGivern was jailed for a year and eight months for a sustained assault on Nicola Shepherd at her home in Ferguson Park, Blairgowrie, after she revealed to him that she had been seeing another man behind his back.
He carried out the attack after being freed early from a five-year jail term imposed in 2012, when he was caught with £30,000 worth of heroin and cocaine in a pink handbag.
Ms Shepherd was injured after McGivern hit her on the body several times with the footwear.