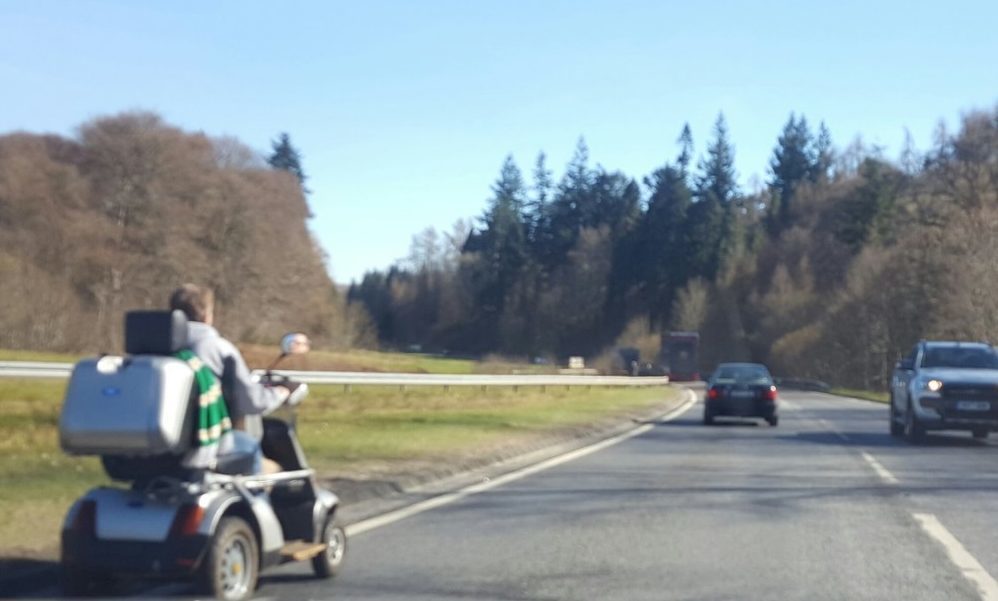 Worried motorists called police after a mobility scooter was spotted trundling along one of Scotland's busiest roads.
The vehicle, with a top speed of just 8mph, was seen heading south on the A9 towards Highland Perthshire.
One onlooker said vehicles had to swerve to get past on the 60mph stretch.
A Twitter user posted a photograph of the driver, complete with Celtic scarf, and said he called police because he was concerned about the man's safety.
He said: "A car a few in front of me had to bodyswerve him. I stopped my car behind him, told him to get off the road and phoned the police.
"Yes, for his own safety, I was a snitch."
Police Scotland said it was looking into reports about the incident, which happened on Wednesday, March 29.
However, it is unlikely that any offence has been committed.
A spokeswoman for Transport Scotland pointed out that, according to the Highway Code, some motorised mobility scooters — or invalid carriages as they are properly known — are actually allowed on main roads.
Class three carriages are banned from motorways, cycle routes and bus lanes but users are only advised to avoid dual carriageways with a speed limit of over 50mph.
If they must use a dual carriageway, they must have a flashing amber light on their vehicle.
In March, dashcam footage emerged of the heart-stopping moment a woman on her mobility scooter nearly collided with a car on Dundee's Kingsway.
The terrifying incident was recorded by a vehicle heading east toward the Pitkerro roundabout, in the outside lane of the dual carriageway.
The clip, which went viral after being posted on YouTube, triggered calls for BEAR Scotland to provide an alternative route for pedestrians to get across the Kingsway at that section.
In the same month, a 92-year-old was pulled over by police for driving his mobility scooter on the busy M74 near Motherwell and Hamilton in Lanarkshire.
He was given advice on the Highway Code before being taken home by officers.