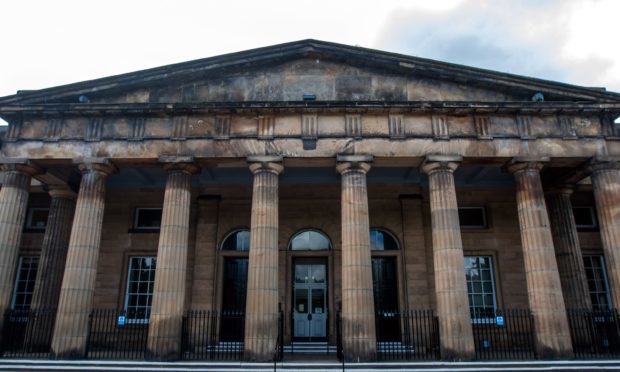 A Perth man is facing prison after admitting carrying out a horrific knifepoint sex attack in a city centre flat.
Garry Brand – who prefers to be known as Yusuf Brand – lured his victim into his home before springing his trap.
He threatened her with a wooden-handled hunting knife with a four-inch blade before pinning her to a sofa.
As she fumbled with a mobile phone to call for assistance, he stripped it from her and threw it over his shoulder.
Brand then covered her mouth to stifle her cries for help, pressing the knife blade to her throat as he did so.
Perth Sheriff Court heard he then ordered the woman to his bedroom, following her with the knife still at her throat.
He pushed her into a bed, pulled down her clothing and committed a sex act as she cried into the bedclothes.
His victim did not know whether the knife was still in his hand as she was "face down and too frightened to move".
When he was finished, Brand told her to leave, warning her of the consequences of telling anyone what had happened.
The woman fled the property and the court heard that while her first instinct had been to run straight for the police station, she was too frightened that Brand might be watching.
Hours later she broke down in front of family members who immediately called the police.
The court was told Brand had already confided in a psychiatrist that he wished to rape the woman so that she would kill him and end his woes, which apparently included a struggle with depression and crushing debts.
He also confided in a former employer and a friend that he had done something stupid.
One text sent by Brand said simply "Knife. Neck.".
Police forced entry to his home in North Methven Street at around 2.15am, around ten hours after the attack.
Brand said initially "I know. I'm sorry for what I've done to her" but thereafter refused to engage with detectives.
Brand, now described as a prisoner at HMP Perth, admitted abducting a woman, presenting a knife at her, preventing her from leaving his address, detaining her against her will and assaulting her on June 26 this year.
He also pleaded guilty to sexually assaulting her, confirming that plea with a grunt and a shrug of the shoulders.
After hearing details of the offence, Sheriff William Wood deferred sentence for reports and remanded him in custody.
He said: "These offences are very serious and it is highly likely that a custodial sentence will follow in due course."
The sheriff placed Brand on the sex offenders register and ordered him to return to court on November 2.
On that date, the sheriff will also consider a request by The Crown for the imposition of a non-harassment order that would ban him from approaching or contacting his victim or entering the street in which she lives for a period of five years.
His victim was said to have been left "fearful" of Brand and what he might do.