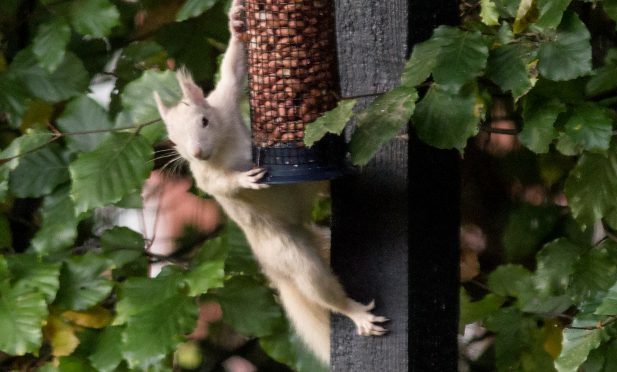 An extremely white squirrel has amazed visitors at a Perthshire guesthouse.
The adorable ghost-like creature, believed to be just one of a handful in the UK, has become a regular caller to Craigatin House in Pitlochry.
It is a highly unusual example of a red squirrel with leucism – a mutated gene which turns its fur white.
Unlike more common albino animals, the squirrel's eyes stay black.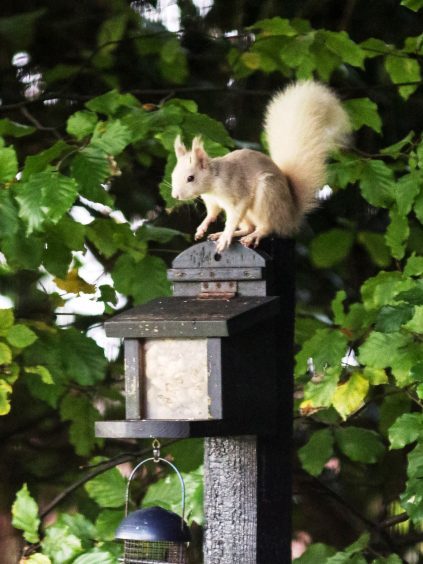 Guesthouse owner Martin Anderson said: "When you first see it, it really takes your breath away.
"He first started appearing in our garden earlier in the summer. One of our American guests said he saw a white ferret running about outside while he was having his breakfast. I didn't know what he was talking about.
"But then I saw it and was absolutely gobsmacked."
He said: "At first we thought it was maybe an albino squirrel, but then we noticed the eyes weren't pink. I did some research online and saw that it could be leucism, caused by a mutated gene."
Mr Anderson, who said the squirrel has appeared at least once a day for the past few weeks, said: "Red squirrels always cause a great deal of excitement, so to see one like this is really something else.
"I wonder if we will be besieged by wildlife watchers once word gets out."
He said he has only seen one white squirrel at a time, but wonders if there may be a family living nearby.
Mr Anderson's theory about the white colour has been backed up by Karen Hornigold, conservation adviser at the Woodland Trust.
She said: "This is very rare. As it has black eyes, but its coat is white, this is most likely a leucistic individual.
"Leucism occurs through a genetic mutation – the gene for leucism is recessive in most cases, meaning that both parents need to pass it on for it to be expressed in the offspring."
The odds of a squirrel being born white like this is about one in a million and there was thought to just be only around four in Britain.